2019: #4 – You Think It, I'll Say It (Curtis Sittenfeld)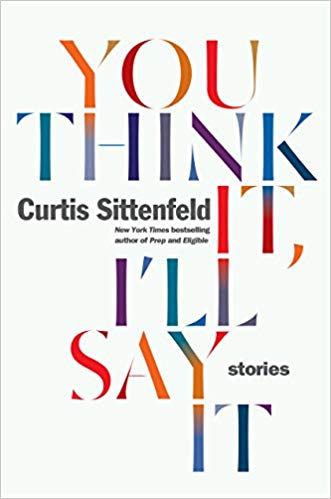 You Think It, I'll Say It
by
Curtis Sittenfeld
Published by
Random House
on April 24, 2018
Genres:
literary fiction
,
short stories
Pages:
226


A suburban mother of two fantasizes about the downfall of an old friend whose wholesome lifestyle empire may or may not be built on a lie. A high-powered lawyer honeymooning with her husband is caught off guard by the appearance of the girl who tormented her in high school. A shy Ivy League student learns the truth about a classmate's seemingly enviable life.

Curtis Sittenfeld has established a reputation as a sharp chronicler of the modern age who humanizes her subjects even as she skewers them. Now, with this first collection of short fiction, her "astonishing gift for creating characters that take up residence in readers' heads" (The Washington Post) is showcased like never before. Throughout the ten stories in You Think It, I'll Say It, Sittenfeld upends assumptions about class, relationships, and gender roles in a nation that feels both adrift and viscerally divided.

With moving insight and uncanny precision, Curtis Sittenfeld pinpoints the questionable decisions, missed connections, and sometimes extraordinary coincidences that make up a life. Indeed, she writes what we're all thinking—if only we could express it with the wit of a master satirist, the storytelling gifts of an old-fashioned raconteur, and the vision of an American original.
This short story collection is the first of Sittenfeld's work I've read, and I found it both interesting and easy to read. As a collection, these stories are about women in relationships — short and long, past and present, perceived and actual — but never neat and tidy. Overall the tone is quite cynical, but I didn't mind that. A couple of the stories revolve around characters that are thinly veiled versions of real people, and there is political talk, if you're sensitive to that sort of thing.
I did think this was a solid collection of stories, and well worth the three nights I spent reading it. I'm glad we chose it for our book club!
Other reviews:
"Overall, though, this is a whip-smart, current and relatable book, ideal for readers who don't think they like short stories." — Bookish Beck
"In all, You Think It, I'll Say It is a wonderful collection of timely stories, sharply observed and brilliantly written. A little more warmth and heart would have made them close to perfect, but they're a fantastic read, nonetheless." — Virginia MacGregor
"Most of the stories feel like mini-novels, and there were at least a few I'd love to see developed into something more expansive." — It's Either Sadness or Euphoria…