2019: #5 – The Mars Room (Rachel Kushner)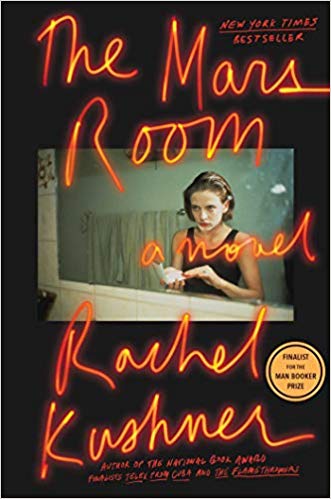 The Mars Room
by
Rachel Kushner
Published by
Scribner
on May 1, 2018
Genres:
literary fiction
Pages:
338


It's 2003 and Romy Hall is at the start of two consecutive life sentences at Stanville Women's Correctional Facility, deep in California's Central Valley. Outside is the world from which she has been severed: the San Francisco of her youth and her young son, Jackson. Inside is a new reality: thousands of women hustling for the bare essentials needed to survive; the bluffing and pageantry and casual acts of violence by guards and prisoners alike; and the deadpan absurdities of institutional living, which Kushner evokes with great humor and precision.
I've wrestled with my feelings about this book, and I think I've fallen solidly on the side of "meh". I struggled to get through it, but kept going because I was interested in the prison drama of it all. I can appreciate the literary quality of the writing, but the story structure left something to be desired. Sometimes things are linear, sometimes we're jumping around from person to person at different places in time, and I often forgot who I was reading about and had to check back to see.
The bulk of the story is about Romy, an exotic dancer who kills a man who is stalking her and is sent to jail for it for life. She's strangely dispassionate about it, except when she's thinking about the son she has left behind and will never see again. But even then, he eventually ends up to be more of a bargaining chip, a way for her to get attention. And like Romy's story, I liked the stories of many of the other characters that are woven in, even though I found everyone (including Romy) to be a stereotypical "type". My biggest problem was that nothing tied together in the end.
And speaking of the end, I hated it. I literally turned the "page" on my kindle expecting more and found nothing. I guess I'm not a fan of an ambiguous ending. I think it really added to my annoyance that I finished the book and immediately though "that's it?"
There are many, many stellar reviews of this book online, and it was short-listed for a Man Booker prize, so it's entirely possible that I'm missing something big here. I guess you'll have to read it yourself to decide.
Other reviews:
"Nevertheless, it felt too often like Kushner was striving to faithfully balance the lives of men against the female population of the prison. The only instance where it felt really effective was towards the end in how she rendered the misogynistic thought process and self-justification of a male stalker. But overall the balance Kushner tried to strike faithfully depicting all her characters' stories felt unwieldy to me." — Lonesome Reader
"'The Mars Room' offers a very interesting character study and shines a light on the bleak realities of incarceration in the US justice system although I'm not surprised it didn't win the overall prize." — A Little Blog of Books
"The Mars Room is a dark book on the realities of the prison and justice system. Kushner delivers a story that is empathic to the prisoners but not overly sympathetic." — EvilCyclist's Blog