2021: #18 – The Duchess Deal (Tessa Dare)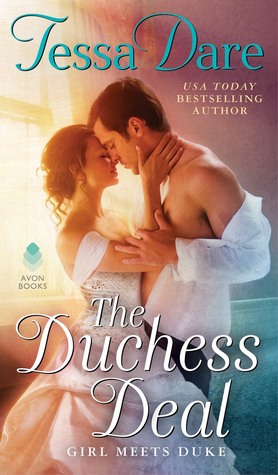 The Duchess Deal
by
Tessa Dare
Series:
Girl Meets Duke #01
Published by
Avon
on August 22, 2017
Genres:
romance
,
regency romance
Pages:
370


Also by this author:
The Governess Game
,
The Wallflower Wager
Also in this series:
The Governess Game
,
The Wallflower Wager

When girl meets Duke, their marriage breaks all the rules…


Since his return from war, the Duke of Ashbury's to-do list has been short and anything but sweet: brooding, glowering, menacing London ne'er-do-wells by night. Now there's a new item on the list. He needs an heir—which means he needs a wife. When Emma Gladstone, a vicar's daughter turned seamstress, appears in his library wearing a wedding gown, he decides on the spot that she'll do.

His terms are simple:- They will be husband and wife by night only.- No lights, no kissing. - No questions about his battle scars.- Last, and most importantly… Once she's pregnant with his heir, they need never share a bed again.

But Emma is no pushover. She has a few rules of her own:- They will have dinner together every evening.- With conversation.- And unlimited teasing.- Last, and most importantly… Once she's seen the man beneath the scars, he can't stop her from falling in love…
Of course, this book starts with a ridiculous premise. The Duke of Ashbury, a man scarred inside (by rejection) and outside (by war), proposes marriage to the first acceptable woman who crosses his path. He really has no interest in marriage, but needs to produce an heir and believes that no woman of standing will have him. Emma, the seamstress who created his ex-fiancé's wedding dress, is estranged from her own family and struggling financially. He proposes a deal to her that seems too good to be true: she marries him, and then once she is pregnant she moves to the country to live out her days in peace and the type of luxury she could never obtain on her own.
What follows is funny and sexy, with lots of great banter and the push and pull that makes romance so fun. Emma proves that she's no helpless maiden with no agency of her own.
It's been a long time since I read a regency romance, but when people recommend Tessa Dare to you, you should stop and listen and then immediately find one.
Other reviews:
"Tessa Dare's The Duchess Deal had me laughing out loud and swooning at the slow-burn relationship. Her writing was easy to fall in love with as well as the uniquely fierce and passionate characters." — Read by Tiffany
"Historical romance fans, you know Tessa Dare is one of our queens, so of course her latest novel, The Duchess Deal, is MUSTREAD." — We So Nerdy
"So I totally recommend reading The Duchess Deal, but preferably while sober so you can really appreciate all of it. It's the perfect blend of two of my favorite fairytale tropes, it's got a hero who never an alpha-hole, it's funny, and it's got female friendship. What more could you want?" — Smart Bitches Trashy Books