2009: #79 – Ms. Taken Identity (Dan Begley)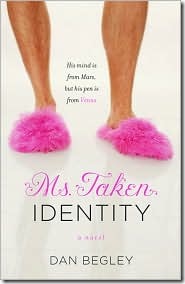 Book #79 was Ms. Taken Identity by Dan Begley.  The back of the book reads:
PhD candidate Mitch Samuel's life isn't going exactly according to plan: his girlfriend just dumped him (to be fair, he did forget to pick her up at the airport), his estranged father has landed in the hospital, and his literary masterpiece-one part Shakespeare, one part Steinbeck, and all parts lyrical epic-has been rejected for the umpteenth time.

However, after a chance encounter at Starbucks with the queen of women's fiction- Katharine Longwell-who seems to take a liking to him, he senses an opportunity for literary riches, if not reputation. After telling her that his (imaginary) female cousin is an aspiring chick-lit author, he secures a promise from her that she'll help his "cousin" get published. The only problem is, Mitch needs a manuscript, and fast.

Unfortunately, try as he might to get inside a woman's head by reading Vogue and Cosmo, watching Oxygen and Oprah, nothing seems to work. That's when his roommate Bradley suggests that he try a dance class at the studio where Bradley's sister Marie takes lessons. Self-conscious about his own skills, and unwilling to reveal his true intentions, Mitch attends the first class under an alias: Jason Gallagher, pharmaceutical rep. What could go wrong?

Nothing, except that Mitch/Jason quickly finds himself hooked on dancing, and on the charming Marie. Who has no idea who he really is. Or that he knows her brother. Or why he's there. Suddenly, his novel-writing project is becoming a lot more than he bargained for…
What's this? Chick-lit written by a man?  Not only did a man (Dan Begley) write this, but he did it very well. I really enjoyed the cast of secondary characters, from Mitch's friend Bradley to his fellow dance students. True to chick-lit form, Mitch is a bit of a bonehead from time to time, but he does try his hardest to fix things in the end. Stereotypes abound here, both for women and men, but not to the point that it's offensive (unless you're *very* easily offended) – it's really part of the shtick. The ending was not what I was expecting from this type of story, but I'm not sure if I'm let down by this or not.  Sometimes being different is good.
Page count: 288 | Approximate word count: 86,400
2008: Dance with the Devil (Sherrilyn Kenyon)
2007: Harry Potter and the Deathly Hallows (J.K. Rowling)
2006: The Mermaid Chair (Sue Monk Kidd)
Used in these Challenges: 100+ Reading Challenge 2009; 2009 ARC Reading Challenge;