2020: #7 – Inheritance (Dani Shapiro)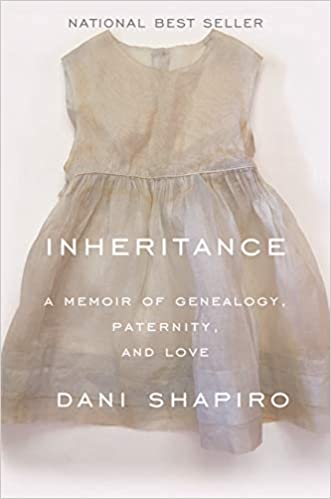 Inheritance: A Memoir of Genealogy, Paternity, and Love
by
Dani Shapiro
Published by
Knopf Publishing Group
on January 15, 2019
Genres:
memoir
Pages:
252


The author of Hourglass now gives us a new memoir about identity, paternity, and family secrets—a real-time In the spring of 2016, through a genealogy website to which she had whimsically submitted her DNA for analysis, Dani Shapiro received the stunning news that her father was not her biological father. She woke up one morning and her entire history—the life she had lived—crumbled beneath her.

Inheritance is a book about secrets—secrets within families, kept out of shame or self-protectiveness; secrets we keep from one another in the name of love. It is the story of a woman's urgent quest to unlock the story of her own identity, a story that has been scrupulously hidden from her for more than fifty years, years she had spent writing brilliantly, and compulsively, on themes of identity and family history. It is a book about the extraordinary moment we live in—a moment in which science and technology have outpaced not only medical ethics but also the capacities of the human heart to contend with the consequences of what we discover.
I was familiar with Dani Shapiro and her story before I read this book, thanks to her podcast Family Secrets. This book is the story of her Family Secret — that her father isn't her biological father.
On its face, this really isn't an unusual situation. Tons of people find out at some point that the people they thought were their biological parents aren't. But there are a few things here that make this situation a little more interesting.
The issue at the core of Dani's parentage isn't an affair, but rather infertility during a time when such things really weren't talked about. Her parents had trouble conceiving, and ended up at what was possibly an "under-the-table" clinic in Philadelphia. Further complicating matters is the fact that both of Dani's parents are dead, so she can't get her many questions directly answered.
The book is not only about Dani's search for her biological father, but also her search for why this was such a secret, and how this secret have affected her parents' relationship and her own upbringing. I found it to be an enjoyable read.
Other reviews:
"I sometimes felt as if Shapiro was making too much of a fuss, and was acting too traumatized. Who am I to know? I'm not the one who found out I was not related to my father." — Lesa's Book Critiques
"I found Dani's story to be compelling, her situation may not be unique, but her experience is intensely personal, and she is honest about its impact on her. I did find the lack of objectivity frustrating at times, though it's not my place to judge her particular issues." — Book'd Out
"Deeply personal and moving, as I read her story it began to raise all sorts of questions for me. I found this memoir fascinating and a real page-turner. I thought it was sad that many of the questions that she would have liked to have answered were ones that only the two people she thought she knew best took to their graves." — Bibliophile by the Sea