2020: #6 – Milk and Honey (Rupi Kaur)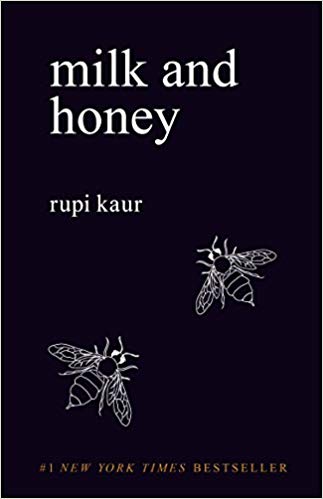 Milk and Honey
by
Rupi Kaur
Published by
Andrews McMeel Publishing
on August 28, 2018
Genres:
poetry
Pages:
226


The book is divided into four chapters, and each chapter serves a different purpose. Deals with a different pain. Heals a different heartache. milk and honey takes readers through a journey of the most bitter moments in life and finds sweetness in them because there is sweetness everywhere if you are just willing to look.
I don't often read poetry, but one of the prompts for the Read Harder challenge is "Read an audiobook of poetry" and I've heard of this one for a long time so I decided to give it a shot.
Milk and Honey is a collection broken into four parts, each with a different theme — the hurting, the loving, the breaking, and the healing. The result is a roller coaster ride of hurt, heartbreak, elation, and strength. Content warning: there is talk of sexual abuse and rape. There is some debate about whether what Kaur has written qualifies as poetry, but I think poetry is very subjective. Whether they are technically "poems" or not, I found much of her writing quite powerful. Some of my favorite parts:
"you tell me to quiet down cause
my opinions make me less beautiful
but i was not made with a fire in my belly
so i could be put out
i was not made with a lightness on my tongue
so i could be easy to swallow
i was made heavy
half blade and half silk
difficult to forget and not easy
for the mind to follow"
"i know the small talk is the only way you know how to tell me you love me, cause it is the only way i know how to tell you."
However.
This book does not work as an audiobook. I had difficulty understanding the structure and when one piece ended and another piece began. I actually stopped listening at the end of the 3rd part, bought the Kindle version, read that, and then finished the audio version. You really need to see the words on the page and the additional artwork to feel the full impact.
But all in all, I'm glad I spent the time on this.
I read this for the Read Harder 2020 challenge (read an audiobook of poetry).
Other reviews:
"Rupi Kaur brought all my feelings forward. She has included topics such as love, loss, trauma, femininity, heartbreak, healing. These topics are very strong to capture. She has perfectly addressed what it feels like to be broken, to be loved, and to be healed by all on your own." — Flipping Through the Pages
"This book undeniably speaks to the hearts of the women.  The book can be viewed as a mirror of the life of a woman. There is something for all of us to think, before hurting a woman. The pain she carries within her, is immense. The book spoke to the depth of my heart, and it is amazing. I would highly recommend this to each and every one of you out there. I feel that it is a MUST READ!!!" — Hasanthi's Book Blog
"My overall feelings were all over the place. I think this collection is a force of good and I felt good or more empowered after reading it, though many bits and pieces didn't have the effect they were meant to or just felt awkward. The final section has many great passages but also seems to bang the reader over the head with "love yourself, don't forget to love yourself, take care of yourself, don't forget how important you are, etc etc." and I did feel after a short while like it was a kind of cloying motivation and repetition." — Kitty Marie's Reading Corner