2020: #8 – The Bromance Book Club (Lyssa Kay Adams)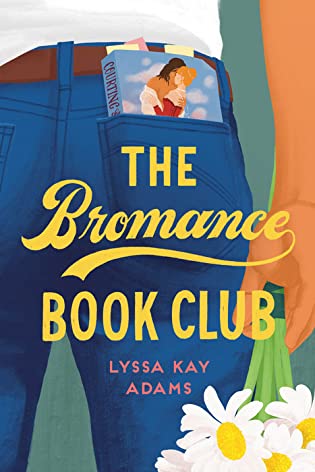 The Bromance Book Club
by
Lyssa Kay Adams
Published by
Berkley
on November 5, 2019
Genres:
contemporary romance
Pages:
344


The first rule of book club: You don't talk about book club.

Nashville Legends second baseman Gavin Scott's marriage is in major league trouble. He's recently discovered a humiliating secret: his wife Thea has always faked the Big O. When he loses his cool at the revelation, it's the final straw on their already strained relationship. Thea asks for a divorce, and Gavin realizes he's let his pride and fear get the better of him.

Welcome to the Bromance Book Club.

Distraught and desperate, Gavin finds help from an unlikely source: a secret romance book club made up of Nashville's top alpha men. With the help of their current read, a steamy Regency titled Courting the Countess, the guys coach Gavin on saving his marriage. But it'll take a lot more than flowery words and grand gestures for this hapless Romeo to find his inner hero and win back the trust of his wife.
Baseball player Gavin has screwed up, big, and his wife Thea has kicked him out of their Nashville home. He wants to win her back, but frankly, he's a mess. That's when his friends come to the rescue and let him in on a little secret — The Bromance Book Club. But can reading a romance novel really help Gavin win back his wife?
I don't know that I've ever read a romance that was mainly from the male's point of view, but this was really good! It's fun and sexy and has a sense of humor. Thea's sister is probably the most annoying character in it (she's pretty angry and pushy), but I suspect we will get better understanding of her in the next book. I enjoyed the read, and it was the perfect book to kick off my winter vacation.
I read this for the PopSugar Reading Challenge this year — this book fulfilled the "book about a book club" prompt.
Other reviews:
"But in all seriousness, other than me loving the funny of a bromance book club in general, this book had a lot of important things you don't see in every day romance." — Star-Crossed Book Blog
"What exactly am I frustrated by and why do I wish there was more nuance? The Bromance Book Club heavily implies that perfect emotional health in a relationship is what it takes to have orgasms." — Smart Bitches Trashy Books
"Everything was fine with the story. Complications are good in a love story. You don't want the conflict to resolve so fast. That's boring. But you know what's also boring? When a interesting plot and a promising story grows slow halfway through the book or when the characters inspire you homicidal thoughts." — Blog on the Run