2006: #21 – A Caress of Twilight (Laurell K. Hamilton)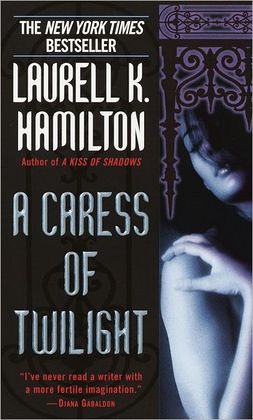 A Caress of Twilight
by
Laurell K. Hamilton
Series:
Meredith Gentry #02
Published by
Ballantine Books
on March 4, 2003
Genres:
fantasy
,
urban fantasy
Pages:
348


Also by this author:
Circus of the Damned
,
A Kiss of Shadows
,
The Lunatic Cafe
,
Bloody Bones
,
The Killing Dance
Also in this series:
Seduced by Moonlight
I am Princess Meredith, heir to a throne - if I can stay alive long enough to claim it. My cousin, Prince Cel, is determined to see that I don't. As long as we both live, we are in a race for the crown: Whichever one of us reproduces first gets the throne. So now the men of my royal guard - frightening warriors skilled with blade, spell, and gun - have become my lovers, auditioning with pleasure for the role of future king and father of my child. And they must still protect me from assassination attempts - for unlike most of the fey, I am part human, and very mortal. All this royal back-stabbing makes it very difficult for me to pursue my living as a private investigator in Los Angeles, especially since the media made sure the whole world knows the Faerie princess is alive and well in sunny California.

Now, in the City of Angels, people are dying in mysterious, frightening ways. What the human police don't realize is that the killer is hunting the fey as well. Havoc lies on the horizon; the very existence of the place known as Faerie is at grave risk. So now, while I enjoy the greatest pleasures of my life with my guardians, I must fend off an ancient evil that could destroy the very fabric of reality. And that's just my day job.
Book #21 was A Caress of Twilight, the 2nd book in Laurell Hamilton's Meredith Gentry series.
Just cleaning the rest of the Laurell K. Hamilton books out of my to-read list. This series is alright — I don't like it as much as the Anita Blake series. This storyline in this book wrapped up a little too quickly for my tastes.
Book count: 21
Pages in book: 348
Page count: 8,970
Words in book: 115,078
Word count:2,574,143
1,000,000 words surpassed — 2/2/06
2,000,000 words surpassed — 2/14/06