2006: #69 – The Deep (Peter Benchley)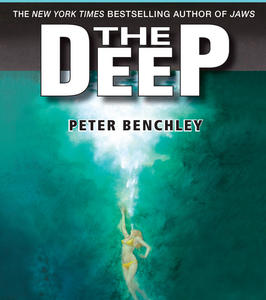 The Deep
Action/Adventure Fiction
1977
290

On a perfect day in Bermuda a honeymooning couple dives into the offshore reefs. They are looking for the wreck of a sunken ship. What they find is surprising. It lures them into a mysterious and increasingly dangerous encounter, a relentless struggle for survival. Now, open this book. Discover for yourself the action, the meance--the hidden underwater world of the Deep.
Book #69 was The Deep, by Peter Benchley.
This was different from other Benchley books I've read. If you don't recognize the name, this is the guy who wrote Jaws. His other books that I've read have all involved some sort of creature. The only evil creature in this book is man. Not a bad read — nice and quick. My only complaint is that I liked the main character better before any of his background was explained. Really, the guy was kind of a jerk.
Book count: 69
Pages in book: 291
Page count: 28,178
Words in book: 82,062
Word count: 8,292,865
1,000,000 words surpassed — 2/2/06
2,000,000 words surpassed — 2/14/06
10,000 pages surpassed — 3/10/06
3,000,000 words surpassed — 3/16/06
4,000,000 words surpassed — 4/3/06
5,000,000 words surpassed — 5/30/06
50 books surpassed — 6/12/06
20,000 pages surpassed — 6/29/06
6,000,000 words surpassed — 6/29/06
7,000,000 words surpassed — 7/21/06
8,000,000 words surpassed — 8/18/06