2006: #76 – Dragonfly in Amber (Diana Gabaldon)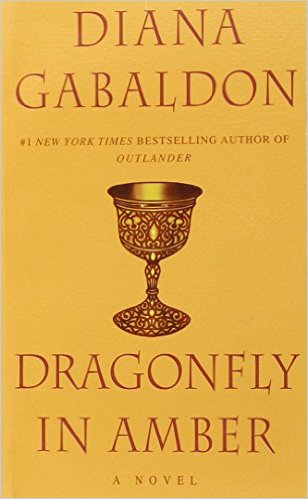 Dragonfly in Amber
Outlander #02
Historical Romance
Dell Publishing Company
1993
960

For twenty years Claire Randall has kept her secrets. But now she is returning with her grown daughter to Scotland's majestic mist-shrouded hills. Here Claire plans to reveal a truth as stunning as the events that gave it birth: about the mystery of an ancient circle of standing stones ... about a love that transcends the boundaries of time ... and about James Fraser, a Scottish warrior whose gallantry once drew a young Claire from the security of her century to the dangers of his....
Now a legacy of blood and desire will test her beautiful copper-haired daughter, Brianna, as Claire's spellbinding journey of self-discovery continues in the intrigue-ridden Paris court of Charles Stuart ... in a race to thwart a doomed Highlands uprising ... and in a desperate fight to save both the child and the man she loves....
Book #76 was Dragonfly in Amber, the second book in Diana Gabaldon's Outlander series.
I loved this one just as much as the first. It had me crying last night. Now, that's not entirely unusual — after all, I cry at tv commercials. But I wasn't just crying, I was friggin' sobbing. Even though I knew it wasn't that bad! No one was going to die, they're going to see each other again — there's more books! It probably didn't help that I was already emotionally wrought after all the Sept 11th stuff during the halftime show of the Vikings/Redskins game. Who am I trying to kid? I would have sobbed anyway.
I'm forcing myself to read something else in between books in this series. Mostly because I don't want to finish it too soon!
Book count: 76
Pages in book: 947
Page count: 31,964
Words in book: 338,528
Word count: 9,417,909
1,000,000 words surpassed — 2/2/06
2,000,000 words surpassed — 2/14/06
10,000 pages surpassed — 3/10/06
3,000,000 words surpassed — 3/16/06
4,000,000 words surpassed — 4/3/06
5,000,000 words surpassed — 5/30/06
50 books surpassed — 6/12/06
20,000 pages surpassed — 6/29/06
6,000,000 words surpassed — 6/29/06
7,000,000 words surpassed — 7/21/06
8,000,000 words surpassed — 8/18/06
30,000 pages surpassed — 9/3/06
9,000,000 words surpassed — 9/6/06