2021: #65 – The House in the Cerulean Sea (T.J. Klune)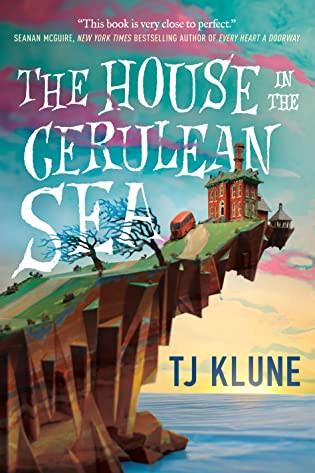 The House in the Cerulean Sea
by
T.J. Klune
Published by
Tor Books
on March 17, 2020
Genres:
fantasy
,
contemporary fantasy
,
lgbtq
Pages:
396


Linus Baker leads a quiet, solitary life. At forty, he lives in a tiny house with a devious cat and his old records. As a Case Worker at the Department in Charge Of Magical Youth, he spends his days overseeing the well-being of children in government-sanctioned orphanages.

When Linus is unexpectedly summoned by Extremely Upper Management he's given a curious and highly classified assignment: travel to Marsyas Island Orphanage, where six dangerous children reside: a gnome, a sprite, a wyvern, an unidentifiable green blob, a were-Pomeranian, and the Antichrist. Linus must set aside his fears and determine whether or not they're likely to bring about the end of days.

But the children aren't the only secret the island keeps. Their caretaker is the charming and enigmatic Arthur Parnassus, who will do anything to keep his wards safe. As Arthur and Linus grow closer, long-held secrets are exposed, and Linus must make a choice: destroy a home or watch the world burn.

An enchanting story, masterfully told, The House in the Cerulean Sea is about the profound experience of discovering an unlikely family in an unexpected place—and realizing that family is yours.
I am late to this particular great-book-train, and I'm not sure there's anything I can say about this that hasn't already been said. This is a magical joyride full of charming characters that really can do no wrong.
Linus is basically a CPS worker, but the department he works for deals specifically with magical children and Linus himself deals specifically with orphanages. He is surprised when he is singled out to go to a very unique home in a very isolated place. He's given very little information about the caretaker, Arthur, or the children until he is on his way there. When he open the first file and discovers that one of these children is the Antichrist, Linus starts to have doubts about whether he can complete this job. In the month that he spends there, he has to determine whether this caretaker and this home is the best place for these children.
I really think "charming" is the best description of this book, yet also not quite enough. You can't help but smile at the children and their antics, and feel warm feelings towards the adults in their lives. Things are not perfect for them — hatred is alive and well in this world, and the children have been kept isolated for their safety. And eventually, Linus is going to have to go home.
I initially didn't think this book would be for me, but I was very, very wrong. I'm greatly looking forward to Klune's next book coming out soon.
I read this for the following reading challenges:
Other reviews:
"The best bits of The House in the Cerulean Sea apart from the characters was the relationships and friendships that end up building and growing all the way through the story and plot." — The Book Blog Life
"This book definitely has a message of acceptance, understanding, peace, and love. The anti-bigotry message can be heard loud and clear. And sometimes when I've read books like this, it can feel like you're being beaten over the head with the message. In this case, there was a great balance of message and story." — Book Love Blog
"It's hard for me to put this fantastic book into words, but overall I was completely enchanted not only by Linus Baker, but also all the other characters in the book. What Klune has created here is truly an extraordinary and heartfelt fantasy story about children who are ostracized from society because of their magical abilities and finally get to feel like they belong through Mr. Parnassus' home." — The Reading Stray