2021: #12 – Gideon the Ninth (Tamsyn Muir)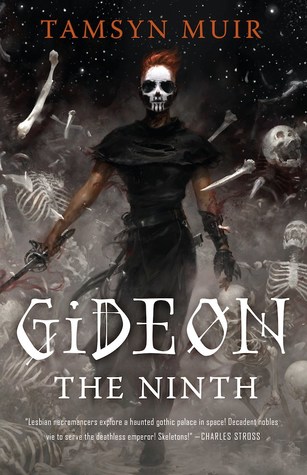 Gideon the Ninth
by
Tamsyn Muir
Series:
The Locked Tomb #01
Published by
Tor
on September 10, 2019
Genres:
fantasy
,
mystery
,
science fiction
Pages:
448


The Emperor needs necromancers.

The Ninth Necromancer needs a swordswoman.

Gideon has a sword, some dirty magazines, and no more time for undead bullshit.

Brought up by unfriendly, ossifying nuns, ancient retainers, and countless skeletons, Gideon is ready to abandon a life of servitude and an afterlife as a reanimated corpse. She packs up her sword, her shoes, and her dirty magazines, and prepares to launch her daring escape. But her childhood nemesis won't set her free without a service.

Harrowhark Nonagesimus, Reverend Daughter of the Ninth House and bone witch extraordinaire, has been summoned into action. The Emperor has invited the heirs to each of his loyal Houses to a deadly trial of wits and skill. If Harrowhark succeeds she will become an immortal, all-powerful servant of the Resurrection, but no necromancer can ascend without their cavalier. Without Gideon's sword, Harrow will fail, and the Ninth House will die.

Of course, some things are better left dead.
This was a wild ride of a book, set in a world completely unfamiliar with our own.
In the most simple terms, There are nine planets (Houses) that serve and worship the Emperor, a great necromancer. The leader of each of these plants are also necromancers, and the next level they can ascend to is Lyctor — an advisor/warrior for the Emperor who is made immortal. In order to choose his next Lyctors, the Emperor sends the leaders of the Houses and their accompanying Cavalier (protector) to the First planet in order to solve/survive a series of tests.
Gideon is an orphan who considers herself to basically be a prisoner of the Ninth House. She is eager to escape the only way she knows how — join the Co-hort (Emperor's army). But when the Ninth House necromancer Harrowhawk, Gideon's nemesis and the only other person of her age on the planet, needs a new Cavalier to accompany her to the First House, Gideon is presented with an offer she can't really refuse.
What follows is a little bit quest, a little bit coming-of-age, and a little bit locked-room mystery. I really had to surrender myself to the story in the beginning, because there's not a whole lot of explanation of how things work and what's going on, you're really just kinda dumped into it. The names take a bit of getting used to, especially in the audio format. I thought the ending was unexpected, but not unsatisfactory. It's really a unique novel, and I look forward to seeing where the story goes in the next 2 books.
I read this for the following reading challenges:
Other reviews:
"Despite my eternal confusion at which character was which, the author still managed to make me really care about her characters, their decisions, and their relationships. For me the standout of Gideon the Ninth, was the friendship between Gideon and Harrow. The two started out hating each other's guts, were trapped together on a planet with no one else they could trust, and forced to help each other survive. I absolutely loved the progression of their bond and development of these characters." — Blogging with Dragons
"I expired when the book presented me with unexpected heroes, who unexpectedly rose to do unexpectedly heroic things. Gideon among them but not the only one. There is a lot of heroic sacrifice in these pages and it took me by surprise how much I ended up caring for so many characters. There is an unassuming depth to this story that hides behind its COOL/FUN high-concept (Lesbian Necromancers in Space!) that simply crawls its way from the darkness and then all of a sudden THERE ARE TEARS and DID THAT JUST HAPPEN x 10 multiplied by one thousand when the ending comes." — The Book Smugglers
"Gideon and Harrow. Holy shit. Watching both of these women who grew up together with a very distinct power imbalance along with lifelong trauma, learn how to trust each other and confront their own egos. Once the plot gathers into what is a murder mystery (more genre mashing!) they both have no other choice but to stick together. Muir has created some absolutely devastating character moments in this book, by the time the book reaches the final act you are totally connected to them." — Hedwig's World