2006: #47 – Into Thin Air (Stan Washburn)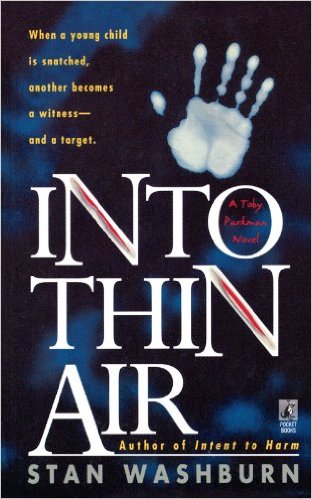 Into Thin Air
by
Stan Washburn
Published by
Gallery Books
on December 3, 2010
Genres:
police procedural
Pages:
336


When someone snatches a child in the charge of 14-year-old babysitter Essie Beal, Bancroft, California Detective Toby Parkman is determined to work every angle, beginning with Essie. Then the case spins into a nightmare--the guilt-ridden Essie flees across the Bay to take refuge in the maze of San Francisco's streets. Toby's best chance of finding the boy is to locate Essie, who may be in more danger than she knows.
Book #47 was Into Thin Air, by Stan Washburn.
This was one of the paperbacks I inherited from my dad, who inherited it from my aunt. I hadn't read anything by this author before, but I'm always up for new mysteries. It was pretty good. Not so good that I plan to add any of his other books to my already too-long list, but good enough that if another of his books were to cross my path, I'd read it. The only thing that really bothered me were the unneccessary "teen angst" scenes. I got a little tired of Essie's friends complaining about how awful their parents were. And for a while I forgot just how young Essie really was.
Book count: 47
Pages in book: 328
Page count: 18,483
Words in book: 98,400
Word count: 5,315,281
1,000,000 words surpassed — 2/2/06
2,000,000 words surpassed — 2/14/06
10,000 pages surpassed — 3/10/06
3,000,000 words surpassed — 3/16/06
4,000,000 words surpassed — 4/3/06
5,000,000 words surpassed — 5/30/06