2006: #46 – Myths, Lies and Downright Stupidity (John Stossel)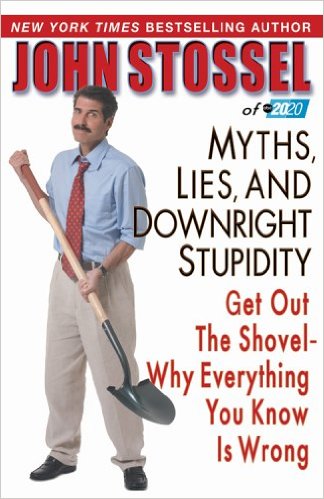 Myths, Lies, and Downright Stupidity: Get Out the Shovel--Why Everything You Know Is Wrong
by
John Stossel
Published by
Kingswell
on May 9, 2006
Genres:
journalism
,
non-fiction
Pages:
320


America's favorite investigative reporter, John Stossel, tackles our favorite myths in his characteristic style and challenges us to look at life differently. Myths and Misconceptions covered in the book include: ls the media unbiased; Are our schools helping or hurting our kids; Do singles have a better sex life than married people; Do we have less free time than we used to; Is outsourcing bad for American workers; Suburban sprawl is ruining America.; Money makes people happier; The world is too crowded.; We're drowning in garbage.; Profiteering is evil.; Sweatshops exploit people. John Stossel takes on these and many more misconceptions, misunderstandings, and plain old stupidity in this collection that will offer much to love for Give Me a Break fans, and show everyone why conventional wisdom -- economic, political, or social -- is often wrong.
Book #46 was Myths, Lies and Downright Stupidity: Get Out the Shovel – Why Everything You Know Is Wrong, by John Stossel.
This was pretty good. I, of course, read everything with my handy grain of salt, but the book confirmed some things I already thought. It also opened my eyes to a few things. And made my eyes roll at a few others. The equality and education sections made me particularly angry (don't get me started on education — really). It's an entertaining read.
Book count: 46
Pages in book: 304
Page count: 18,155
Words in book: 80,250
Word count: 5,216,881
1,000,000 words surpassed — 2/2/06
2,000,000 words surpassed — 2/14/06
10,000 pages surpassed — 3/10/06
3,000,000 words surpassed — 3/16/06
4,000,000 words surpassed — 4/3/06
5,000,000 words surpassed — 5/30/06