2020: #11 – Little Fires Everywhere (Celeste Ng)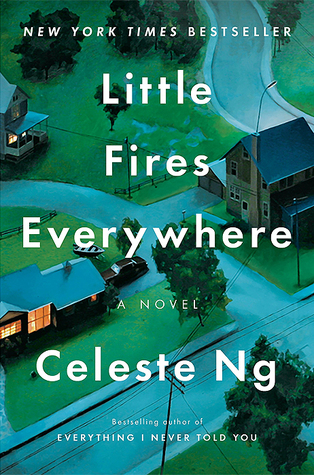 Little Fires Everywhere
by
Celeste Ng
Published by
Penguin Press
on September 12, 2017
Genres:
literary fiction
Pages:
338


In Shaker Heights, a placid, progressive suburb of Cleveland, everything is planned – from the layout of the winding roads, to the colors of the houses, to the successful lives its residents will go on to lead. And no one embodies this spirit more than Elena Richardson, whose guiding principle is playing by the rules.

Enter Mia Warren – an enigmatic artist and single mother – who arrives in this idyllic bubble with her teenaged daughter Pearl, and rents a house from the Richardsons. Soon Mia and Pearl become more than tenants: all four Richardson children are drawn to the mother-daughter pair. But Mia carries with her a mysterious past and a disregard for the status quo that threatens to upend this carefully ordered community.

When old family friends of the Richardsons attempt to adopt a Chinese-American baby, a custody battle erupts that dramatically divides the town--and puts Mia and Elena on opposing sides. Suspicious of Mia and her motives, Elena is determined to uncover the secrets in Mia's past. But her obsession will come at unexpected and devastating costs.

Little Fires Everywhere explores the weight of secrets, the nature of art and identity, and the ferocious pull of motherhood – and the danger of believing that following the rules can avert disaster.
This is a slow burn of a story full of complex characters.
First is Elena Richardson. Elena is the "perfect" suburban mom of 4, with the successful husband and big house in the suburbs. But Elena struggles with her relationship with her youngest daughter, Izzy, who can't help but fall short of Elena's rigid expectations of her.
On the other side is Mia Warren, the free spirit artist who is renting an apartment from the Richardsons. Mia and her daughter Pearl have criss-crossed the country following Mia's muse, but are hoping to settle in idyllic Shaker Heights for longer than normal, now that Pearl is in high school.
But this book isn't just about Elena and Mia, though they drive the overarching story. It's about Lexi and her boyfriend, who is anxious to have sex. It's about Moody and his unrequited love for Pearl. It's about Pearl struggling to fit in and find her place and learn how to settle. And it's about what happens when a birth mother reemerges before an adoption is finalized.
The adoption portion of the story can be difficult for some to read, because it's a complicated question. If a mother gives up a child, can she show up and take her back? What if the child has been in her new home for most of her life? Who gets to be "mother"?
Many people will speak about this book as though Mia is the light and Elena is the dark, but I didn't see it that way. In my opinion, Mia is the most problematic and selfish character in the book, yet we're supposed to forgive her flaws because she's The Artist.
I thought this was a worthwhile (though dark) read, and I finished it just in time for the show to come out on Hulu. So far, I think the show is a good interpretation, so if you like the book, you'll like that too.
I read this for the PopSugar Reading Challenge this year — this book fulfilled the "book you meant to read in 2019" prompt.
Other reviews
"Don't expect to be loving the nurturing character of each person. Do be prepared to be challenged both intellectually and emotionally, and be prepared to be thinking about this book way longer than the normal fiction fare." — Reading for Sanity
"This was an intriguing and compelling domestic drama. A story about motherhood, adolescence, race, rules, right and wrong, and so much more." — Diary of a Black City Girl
"I liked the juxtaposition of all the drama, and artsy, nomadic Mia, against the orderly background of Shaker Heights. I think that perfect Stepford-style neighborhood was the perfect setting for this novel." — Megan Travels the World