2020: #12 – The Fifth Season (N.K. Jemisin)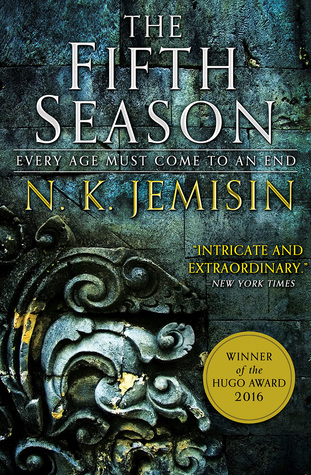 The Fifth Season
by
N.K. Jemisin
Series:
The Broken Earth #01
Published by
Orbit
on August 4, 2015
Genres:
high/epic fantasy
Pages:
471


Also by this author:
The Obelisk Gate
,
How Long 'til Black Future Month?
Also in this series:
The Obelisk Gate
THIS IS THE WAY THE WORLD ENDS. AGAIN.

Three terrible things happen in a single day.

Essun, masquerading as an ordinary schoolteacher in a quiet small town, comes home to find that her husband has brutally murdered their son and kidnapped their daughter. Mighty Sanze, the empire whose innovations have been civilization's bedrock for a thousand years, collapses as its greatest city is destroyed by a madman's vengeance. And worst of all, across the heartland of the world's sole continent, a great red rift has been been torn which spews ash enough to darken the sky for years. Or centuries.

But this is the Stillness, a land long familiar with struggle, and where orogenes -- those who wield the power of the earth as a weapon -- are feared far more than the long cold night. Essun has remembered herself, and she will have her daughter back.

She does not care if the world falls apart around her. Essun will break it herself, if she must, to save her daughter.
It's been a long time since I read a fantasy novel like this.
The Fifth Season is the first of a trilogy, so don't expect a complete story here. It took me a little while to get into, because there is a lot of world building. The world of this story is not like our own. There is one single continent, full of "comms" that are settlements. There is also a caste system, and people are named by their function, like Strongbacks, or Leadership. And every so often there is a big enough "shake" to throw the entire continent into a "Fifth Season" — a terrible time of struggle.
The story is centered around 3 female characters, all of whom are orogenes. Orogenes are people who can control the energy within the earth, and they are both used by the ruling class to control the shakes and keep things stable and reviled by those who are non-orogenes.
The first woman we meet is Essun, who has found her young son dead and her husband and daughter gone. We learn that she is an orogene, and so are her son and daughter. It's the discovery of this secret that has led to her son's death, and now Essun is determined to track down her husband and save her daughter.
Next is Damaya, a young orogene girl who has just discovered her powers and who is being given away by her parents to be taken to Fulcrum, the place in the Captial where orogenes are trained to control and use their powers.
Finally we meet Syenite, a young orogene woman of moderate power who has been told that she needs to have a child with a much stronger orogene, and therefore must accompany him on a journey across the continent as he goes on his next mission.
The stories of these three are woven together in a masterful way, until the last piece falls into place and you realize that what you've been reading is a real masterpiece. I look forward to continuing this story, now that my fantasy-reading muscles have been fully stretched!
I read this for the PopSugar Reading Challenge this year — this book fulfilled the "book by a woman of color" prompt.
Other reviews:
"I felt that Jemisin's single-minded focus on the fate of the orogenes left the drama feeling two-dimensional. I needed a bit more nuance and depth in order to justify investing more time in the book." — Happy Antipodean
"The storytelling is brilliant, the story and its developments are exciting, and the worldbuilding is complex and compelling. The only obstacle I would expect for readers starting out The Fifth Season would be that it does take a while to get into the story, but once you start and get into it – it will be absolutely worth it." — The Quiet Pond
"This fantasy and sci-fi novel overflowed with awesome twists and engaging and diverse characters, intriguing worldbuilding and magic system." — A Dragon in Space