2019: #22 – Devil's Peak (Deon Meyer)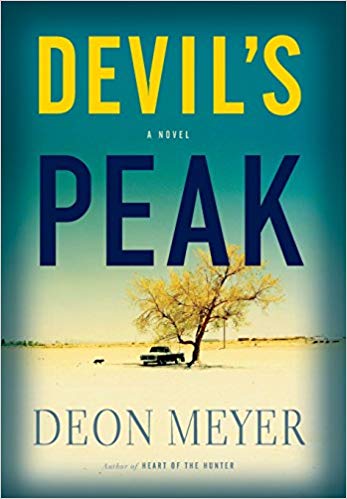 Devil's Peak
by
Deon Meyer
Series:
Benny Griessel #01
Published by
Little, Brown and Company
on March 26, 2008
Genres:
police procedural
Pages:
416


From rising South African thriller writer Deon Meyer, a gripping suspense novel about revenge, forgiveness, and the race to catch a trained killer.

A young woman makes a terrible confession to a priest. An honorable man takes his own revenge for an unspeakable tragedy. An aging inspector tries to get himself sober while taking on the most difficult case of his career. From this beginning, Deon Meyer weaves a story of astonishing complexity and suspense, as Inspector Benny Griessel faces off against a dangerous vigilante who has everything on his side, including public sympathy. A gruesome abuse case has hit the newsstands, and one man has taken it upon himself to stand up for the children of Cape Town. When the accused is found stabbed through the heart by spear, it's only the beginning of a string of bloody murders - and of a dangerous dilemma for detective Griessel. The detective is always just one step behind as someone slays the city's killers. But the paths of Griessel and the avenger collide when a young prostitute lures them both into a dangerous plan - and the two find themselves with a heart-stopping problem that no system of justice could ever make right.
I wasn't sure about this book at first. Meyer is a South African writer, and this novel is mostly set in Cape Town and the surrounding area. I wasn't sure if there would be cultural aspects I just didn't get, but Meyer does a good job of giving you context around what's going on.
The story revolves around 3 characters: Benny Griessel, a long-time police detective whose alcoholism has caught up with him and whose wife has thrown him out of the house; Christine, a sex-worker who is telling a priest the story of her life; and Thobela, a Xhosa man on a mission of retribution. The first half or so of the novel switches between the point of view of each character. I thought this part was a little slow, but I'm glad I stuck with it. Once you get to the second half of the novel and the pieces start to fit together, you find the wait was well worth it.
I thought this was a strong crime novel, once all was said and done. And I felt like I learned a little about South Africa and its social politics along the way.
Other reviews:
"The real strengths of Devil's Peak are the characterisation, plotting and sense of place. Meyer provides an intricate story based on three in-depth character studies embedded in the turmoil of South African society, its criminal underbelly, and overstretched and corrupt police force." — The View From the Blue House
"There are some wonderfully drawn characters in this story, and the three threads are beautifully layered." — Mysteries in Paradise
"The story line is clever in that the vigilante killer is a hard one to dislike. Criminals guilty of atrocities the world over get off on technicalities and when the atrocities committed are violent and sexual crimes against children, or even tiny babies, it's easy to get inflamed over the lack of justice and the often pathetic punishment." — all the books i can read