2006: #24 – Micah (Laurell K. Hamilton)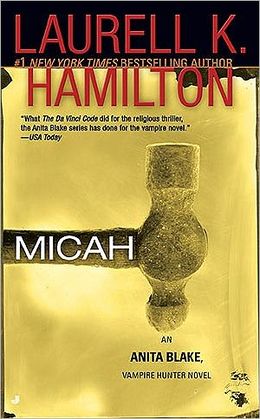 Micah
by
Laurell K. Hamilton
Series:
Anita Blake #13
Published by
Berkley Books
on March 1, 2006
Genres:
fantasy
,
urban fantasy
Pages:
245


Also by this author:
Circus of the Damned
,
A Kiss of Shadows
,
The Lunatic Cafe
,
Bloody Bones
,
The Killing Dance
Also in this series:
Circus of the Damned
,
The Lunatic Cafe
,
Bloody Bones
,
The Killing Dance
,
Burnt Offerings
There are lots of reasons to raise the dead-some private, some public. In this case, the feds have a witness who died before he could speak on the record. They want him raised so his testimony can be taken. So here I am, on a plane to Philadelphia, flying off to do my job.

But I'm not alone. Micah is with me. Micah, head of the St. Louis were-leopard pard. King to my Queen. The only one of my lovers who can stir my blood with just a glance from his chartreuse cat's eyes. I was happy to have him at my side.

Until he mentioned that this will be our first time alone together. No Master Vampire. No Alpha Werewolf. Just me and Micah. And all my fears and doubts...
Book #24 was Micah, a stand-alone book in Laurel K. Hamilton's Anita Blake series.
I have mixed feelings about this. Not really because of the content, but because of the delivery. A novel this was not. It was a short story printed with 14pt type and double-spaced, with full page chapter headings to add some bulk to the book. Not really worth the $8 I spent on it (man, I remember when paperbacks were $3.50). I read it in about an hour and a half Saturday night. I'm expecting big things from her next real book in the series, which is due out in June.
Book count: 24
Pages in book: 288
Page count: 9,946
Words in book: 43,804
Word count:2,816,025
1,000,000 words surpassed — 2/2/06
2,000,000 words surpassed — 2/14/06