2021: #40 – Pieces of Her (Karin Slaughter)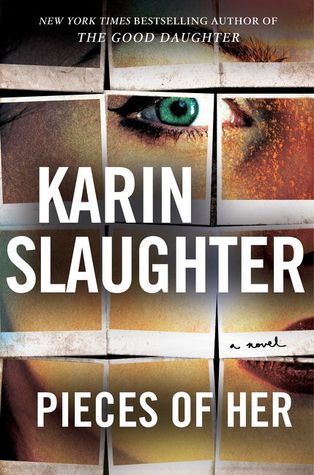 Pieces of Her
by
Karin Slaughter
Published by
William Morrow
on August 21, 2018
Genres:
thriller
,
suspense thriller
Pages:
656


Andrea Oliver's mother, Laura, is the perfect small-town mum. Laura lives a quiet but happy life in sleepy beachside Belle Isle. She's a pillar of the community: a speech therapist, business owner and everybody's friend. And she's never kept a secret from anyone. Or so Andrea thinks.

When Andrea is caught in a random violent attack at a shopping mall, Laura intervenes and acts in a way that is unrecognisable to her daughter. It's like Laura is a completely different person - and that's because she was. Thirty years ago. Before Andrea. Before Belle Isle.

Laura is hailed as a hero for her actions at the mall but 24 hours later she is in hospital, shot by an intruder, who's spent decades trying to track her down.

What is Andrea's mother trying to hide? As elements of the past return and put them both in danger, Andrea is left to piece together Laura's former identity and discover the truth - for better or worse - about her mother. Is the gentle, loving woman who raised her also a violent killer?
I was lukewarm on this book at first. The prologue kinda lost me, and then it started out a little slow. But once things start happening, I was eager to jump on the train.
Andrea (Andy) is a little bit lost. She moved home after an unsuccessful stint in New York to help her mother, Laura, who had been diagnosed with cancer. But now Laura is in remission, and Andy needs to figure out what she wants to do with her life. They are having breakfast in a diner one morning when a sudden attack makes Andy realize that her mother may not be who she thinks she is, and the further Andy gets from home, the deeper the mystery gets.
We also get a second storyline, about Laura's past before Andy was born and what has led up to her behavior now. This storyline left me a little bit confused at first, but it wasn't long before I figured out what was going on.
I don't want to say much more about the plot because I think finding the pieces along the way is what makes this a good read. Previously I've only read Slaughter's Will Trent books (which I love), so I was glad to see I liked this standalone just as much.
Other reviews:
"With its decidedly original plot and seamlessly smooth use of flashbacks, it is a thriller that will capture hearts — especially the hearts of lone daughters raised by single mothers." — Drink. Read. Repeat.
"I suggest going into this one a little open minded and realize it's not going to be quite as gritty as Pretty Girls or as emotional as The Good Daughter. Still brilliantly written, addicting with a touch of cult and a lot of WHO IS SHE?! You really don't ever know everything about someone. But what happens when the mother who raised you turns out to be completely different than anything you ever knew?" — Where the Reader Grows
"In the flyleaf of Pieces of Her Slaughter poses a question to readers, "Can your ever really know anybody completely?" In my opinion the answer is usually no. In the case of Andrea, she did not know herself completely until she was tested. This was my favorite aspect of Pieces of Her. Andrea set out on this journey hoping to learn more about her mother but instead learned more about herself." — Murder and Moore