2021: #23 – Say Nothing: A True Story of Murder and Memory in Northern Ireland (Patrick Radden Keefe)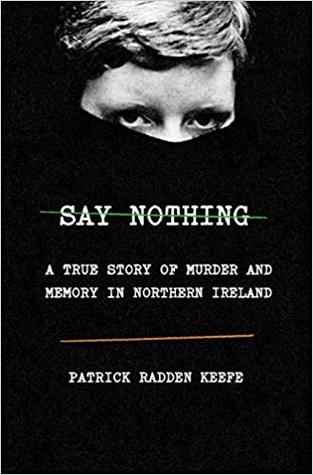 Say Nothing: A True Story of Murder and Memory in Northern Ireland
by
Patrick Radden Keefe
Published by
Doubleday
on February 26, 2019
Genres:
non-fiction
,
history
,
true crime
Pages:
519


In December 1972, Jean McConville, a thirty-eight-year-old mother of ten, was dragged from her Belfast home by masked intruders, her children clinging to her legs. They never saw her again. Her abduction was one of the most notorious episodes of the vicious conflict known as The Troubles. Everyone in the neighborhood knew the I.R.A. was responsible. But in a climate of fear and paranoia, no one would speak of it. In 2003, five years after an accord brought an uneasy peace to Northern Ireland, a set of human bones was discovered on a beach. McConville's children knew it was their mother when they were told a blue safety pin was attached to the dress--with so many kids, she had always kept it handy for diapers or ripped clothes.

Patrick Radden Keefe's mesmerizing book on the bitter conflict in Northern Ireland and its aftermath uses the McConville case as a starting point for the tale of a society wracked by a violent guerrilla war, a war whose consequences have never been reckoned with. The brutal violence seared not only people like the McConville children, but also I.R.A. members embittered by a peace that fell far short of the goal of a united Ireland, and left them wondering whether the killings they committed were not justified acts of war, but simple murders.

Patrick Radden Keefe writes an intricate narrative about a notorious killing in Northern Ireland and its devastating repercussions.
Before reading this book, all I knew about the Troubles in Ireland was that the Catholics and Protestants hated each other and the IRA blew stuff up. Now I can say I know a whole heck of a lot more.
The framing of Radden Keefe's history of the conflict is the disappearance of Jean McConville, a mother of 10 who had just lost her husband and was already struggling to keep her children fed and safe. One day a group of men show up at her home and take her away, and no one ever sees her again. They say she was spying on the Irish for the British government, but her children can't believe there's any way that's true.
What follows is not only a thorough, well-researched history of the conflict, but also an examination of the different philosophies used to fight in it. Was violence a necessary evil, or just evil? I also thought it was interesting to get a detailed picture of some of the IRA fighters, particularly the Price sisters, Delours and Marian. And the story behind how so many first-hand accounts were recorded is a bit amazing.
This book is certainly more history than it is true crime, but it's fascinating, either way.
I read this for the following reading challenges:
Other reviews:
"I'll reiterate again that Say Nothing is outstanding, an incredible piece of political writing that is comprehensive, compelling, empathetic, and challenging, leaving the reader with much to contemplate." — Theresa Smith Writes
"For me, the heart of the story is family & ideals. We see how the ideals of an individual group affect so many." — Really Into This