2005: #71 – Secret Prey (John Sandford)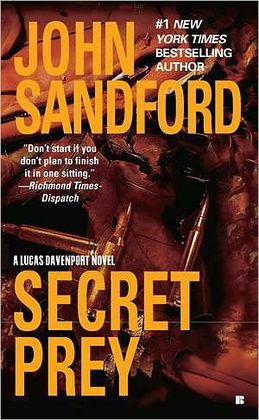 Secret Prey
by
John Sandford
Series:
Lucas Davenport #09
Published by
Putnam Adult
on May 11th 1998
Genres:
suspense thriller
Pages:
392


Also by this author:
Mind Prey
,
Sudden Prey
,
Shadow Prey
Also in this series:
Mind Prey
,
Sudden Prey
,
Shadow Prey
The company chairman lay on the cold ground of the woods, his eyes unseeing, his orange hunting jacket punctured by a rifle bullet fired at close range. Near him stood the four executives with whom he had been hunting, each with his or her own complicated agenda, each with a reason not to be sorrowful about the man's death. There were currents running through this group, hints and whispers of something much greater than the murder of a single man. Davenport had felt this way not long before, sensed the curling of an indefinable evil, and not only had it almost gotten him killed, it had lost him his fiancee, who'd never been able to recover from the violence of the encounter. Sometime soon, unless he could stop it, there would be another death, and then another, and Davenport couldn't help wondering if maybe this time, the final death might not be his own...
Book #71 was Secret Prey, the 9th book in John Sandford's Lucas Davenport series.
Why another Sanford book so soon? Well, they were both part of a larger book. This one was much like the last, and filled in a lot of blanks in the larger story for me.
Book count: 71
Pages in book: 384
Page count: 25,576
15,000 page goal reached 6/14/05!
50 book goal reached 7/19/05!