2005: #72 – Jacob's Ladder (Donald McCaig)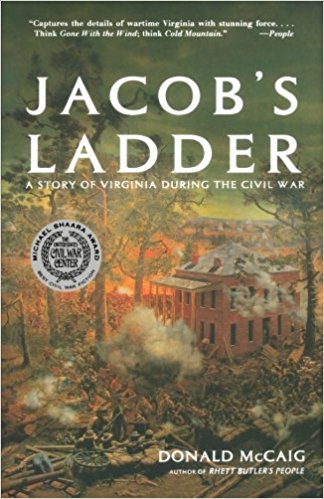 Jacob's Ladder: A Story of Virginia During the War
by
Donald McCaig
Published by
W. W. Norton & Company
on December 7th 2009
Genres:
hf - Civil War
,
historical fiction
Pages:
528


Duncan Gatewood, seventeen and heir to Gatewood Plantation, falls in love with Maggie, a mulatto slave, who conceives a son, Jacob. Maggie and Jacob are sold south, and Duncan is packed off to the Virginia Military Institute—he will eventually fight for Robert E. Lee. Another Gatewood slave, Jesse—whose love for Maggie is unrequited—escapes to find her. Jesse finds his freedom and enlists in Mr. Lincoln's army; in time he will confront his former masters.

In his award-winning novel of the interlocked lives of masters and slaves, Donald McCaig conjures a passionate and richly textured story in the heart of America's greatest war.
Book #72 was Jacob's Ladder: A Story of Virginia During the War by Donald McCaig.
Actually, I didn't quite finish this book. But I invested so much time in it, I'm counting it, dammit. I was disappointed in it — I was looking for much more story about the people, and much less descriptions of battles. I expected it to be a story about Duncan, Maggie, and Jacob. And since Maggie was essentially the narrator, I was disappointed that there were large stretches where you just didn't read anything about her. What it comes down to is that I just lost interest in the story.
Doesn't look like I'll be hitting 100 books by year's end! Oh well, I'll just start over again in January.
Book count: 72
Pages in book: 527
Page count: 26,103
15,000 page goal reached 6/14/05!
50 book goal reached 7/19/05!