2019: #26 – Shadow Prey (John Sandford)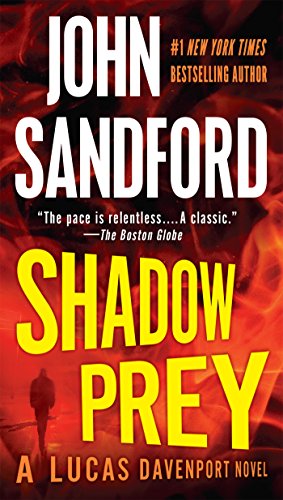 Shadow Prey
by
John Sandford
Series:
Lucas Davenport #02
Published by
Putnam Adult
on June 28, 1990
Genres:
police procedural
Pages:
318


Also by this author:
Mind Prey
,
Sudden Prey
,
Secret Prey
Also in this series:
Mind Prey
,
Sudden Prey
,
Secret Prey
A slumlord and a welfare supervisor butchered in Minneapolis . . . a rising political star executed in Manhattan . . . an influential judge taken in Oklahoma City . . . All the homicides have the same grisly method – the victim's throat is slashed with an Indian ceremonial knife – and in every case the twisted trail leads back through the Minnesota Native American community to an embodiment of primal evil known as Shadow Love. Once unleashed, Shadow Love's need to kill cannot be checked, even by those who think they control him. Soon he will be stalking Lucas Davenport – and the woman he loves...

Never get involved with a cop: Lieutenant Lucas Davenport has been warning women for years, but now he finds himself on dangerous ground with a policewoman named Lily Rothenburg, on assignment from New York to help investigate the murders. Both have previous commitments, but neither can stop, and as their affair grows more intense, so too does the mayhem surrounding them, until the combined passion and violence threaten to spin out of control and engulf them both. Together, Lucas and Lily must stalk the drugged-out, desperate world of the city's meanest streets to flush out Shadow Love – not knowing they are now the objects of his deadliest desires...
This is a very early book in the Lucas Davenport series, so my star rating is allowing room to grow. There aren't many surprises here if you're familiar with Lucas Davenport. He's a good investigator, but he's reckless and he can't keep it in his pants. The bright side to that is that the women in his life don't just roll over and take it. This mystery is centered around the murders of a number of people who are considered enemies of the Native American community. There is a lot of Native American politics and mysticism involved here, but it's not difficult to understand. I don't know how well this would hold up to current standards for how we talk about things, but I enjoyed the read and enjoy the series.
Other reviews:
"John Sandford is a gifted writer. While faithfully following the activities of the police, he paints a picture of the grim conditions in which so many Indians live both on the reservation and in the cities and of the racism they encounter so frequently." — Mal Warwick's Blog on Books
"I really enjoyed the story centering around the Native American community. It's not often that this community is featured in novels in any real way that I've read, and I loved how fleshed out these characters were." — I was Angelized_1st
"Sandford tosses in some metaphysical scenes with the bones of dead Sioux crying out, descriptions of conditions on the res, and he doesn't hold back on the negative side of how some Indians react to life. I'm torn between wondering if the bones bit was gratuitous or whether it was essential so we understand where the Crows are coming from…or even both." — KD Did It Edits