2021: #35 – From Blood & Ash (Jennifer L. Armentrout)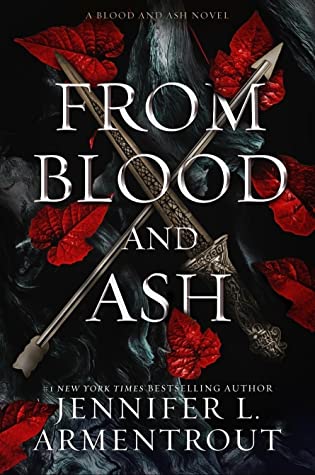 From Blood and Ash
by
Jennifer L. Armentrout
Series:
Blood and Ash #01
Published by
Blue Box Press
on September 24, 2020
Genres:
fantasy
,
fantasy romance
Pages:
500


Also by this author:
A Kingdom of Flesh and Fire
Also in this series:
A Kingdom of Flesh and Fire
A Maiden…

Chosen from birth to usher in a new era, Poppy's life has never been her own. The life of the Maiden is solitary. Never to be touched. Never to be looked upon. Never to be spoken to. Never to experience pleasure. Waiting for the day of her Ascension, she would rather be with the guards, fighting back the evil that took her family, than preparing to be found worthy by the gods. But the choice has never been hers.

A Duty…

The entire kingdom's future rests on Poppy's shoulders, something she's not even quite sure she wants for herself. Because a Maiden has a heart. And a soul. And longing. And when Hawke, a golden-eyed guard honor bound to ensure her Ascension, enters her life, destiny and duty become tangled with desire and need. He incites her anger, makes her question everything she believes in, and tempts her with the forbidden.

A Kingdom…

Forsaken by the gods and feared by mortals, a fallen kingdom is rising once more, determined to take back what they believe is theirs through violence and vengeance. And as the shadow of those cursed draws closer, the line between what is forbidden and what is right becomes blurred. Poppy is not only on the verge of losing her heart and being found unworthy by the gods, but also her life when every blood-soaked thread that holds her world together begins to unravel.
Penellephe (Poppy) has always been told that she is the Chosen, the Maiden. She is to remain pure, untouched, unfriended, unexperienced, going through her life either in her room with her designated companion or escorted by her guards to her lessons with the Duke and the high priestess. Most don't even know what she looks like, because she's required to wear a veil any time she's outside of her room. When it's time for her to Ascend and be accepted by the Gods, a new glorious era in the Kingdom of Solis will begin.
Poppy's really not into all that. But her parents are dead, killed by a monstrous attack when she was young, and her brother has already become one of the Ascended and lives his own glorious life in the capital, so she has to find her own ways to escape. Her head guard, Viktor, has risked teaching her how to defend herself, and from time to time she sneaks out of the castle on her own, especially at night when the nightmares have woken her. It's on one of these nights where she ends up at a brothel/game house and accidentally in a room with Hawke, the handsome new member of the Royal Guard that people have been whispering about. And he seems to be quite intrigued by her.
Their paths keep crossing, but more serious things are afoot. People are dying in the castle, and the mist that contain the monstrous Craven is getting closer every day. And Hawke is making Poppy want for a different life, because there is a connection between them that she just can't deny.
I picked up this book because I kept seeing it all over my social media, and I'm glad I did! It's not perfect — Poppy spends a lot of time inside her own head (though I don't think that's unusual for someone leading such a limited life) and Hawke sometimes rides the line/crosses the line between flirting and forcing. But I immediately picked up the second book, even though I had guessed part of the twist fairly early on in the story. I haven't read a lot of fantasy romance and it scratched that itch that paranormal romance usually hits. I'm looking forward to seeing where the story goes!
Other reviews:
"From Blood and Ash is a steamy fantasy romance that has gotten a lot of hype lately, for good reason. I was thoroughly addicted to the plot, the characters and the romance while reading the book and will definitely be picking up the sequel ASAP!" — Happy Indulgence
"From Blood and Ash is one of the best books that I have read in recent history (it made my list of favorite reads of 2020). It's an extremely engrossing story – if you're anything like me, you'll be sneaking away to read it at every available opportunity. So, do yourself a favor and go pick up (or borrow) a copy now!" — Bookish Wayfarer
"From Blood and Ash is my favorite Jennifer L. Armentrout book! I loved how there was lightness and darkness mixed together in this story. I loved how I would go from laughing and sighing to crying my eyes out. I loved every single moment in this book, even the ones that gutted me. I can't recommend this book enough!" — Star-Crossed Book Blog