2019: #28 – Deep in the Valley (Robyn Carr)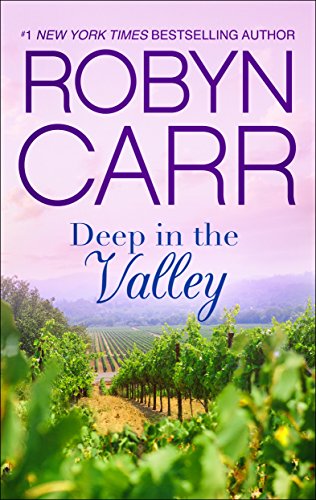 Deep in the Valley
by
Robyn Carr
Series:
Grace Valley #01
Published by
Thorndike Press
on June 1, 2009
Genres:
women's fiction
Pages:
477


Also by this author:
Whispering Rock
,
A Virgin River Christmas
,
Just Over the Mountain
,
Down by the River
,
One Wish
Also in this series:
Just Over the Mountain
,
Down by the River
Welcome to Grace Valley, California--where blood runs thicker...ties are stronger...and love is all the more sweet. Visitors to the town often remark about the valley's peace and beauty--both of which are plentiful. Unlocked doors, front porches, pies cooling in the windows--this is country life at its finest. But visitors don't always see what lies at the heart of a community. Or just beyond...

June Hudson grew up in Grace Valley, the daughter of the town doctor. Leaving only to get her medical training, she returned home and followed in her father's footsteps. Some might say she chose the easy, comfortable route...but June knows better.

For June, her emergency room is wherever she's needed--or wherever a patient finds her. She is always on call, her work is her life and these people are her extended family. Which is a good thing, since this is a town where you should have picked your husband in the ninth grade. Grace Valley is not exactly the place to meet eligible men--until an undercover DEA agent suddenly starts appearing at all sorts of strange hours.

Everybody has secrets down in the valley. Now June has one of her own.
This was a nice start to a trilogy from Robyn Carr, but I consider it more women's fiction than a romance. There was only the tiniest bit of romance in the book, but I don't think it suffered from the lack.
The story is centered around Dr. June Hudson, the main doctor in Grace Valley, a rural part of California. She needs to hire a new doctor, and decides to give the slick-looking John Stone a shot. The book is mostly from June's point of view, but it's really about the whole town and its cast of characters, complete with eccentric aunt and philandering preacher.
There's a lot of fear-mongering here around the marijuana farms deeper in the mountains, but I think that was mostly the sign of the times when the book was written (2000, before any sort of legalization). It's still funny to read now, though.
I went on to finish the entire trilogy, so I guess that is an obvious sign of approval.