2020: #38 – Still Life (Louise Penny)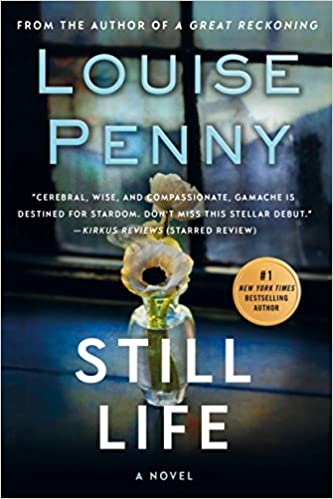 Still Life
by
Louise Penny
Series:
Chief Inspector Armand Gamache #01
Published by
St. Martin's Paperbacks
on May 1, 2007
Genres:
cozy mystery
Pages:
293


As the early morning mist clears on Thanksgiving Sunday, the homes of Three Pines come to life - all except one…

To locals, the village is a safe haven. So they are bewildered when a well-loved member of the community is found lying dead in the maple woods. Surely it was an accident - a hunter's arrow gone astray. Who could want Jane Neal dead?

In a long and distinguished career with the Sûreté du Quebec, Chief Inspector Armand Gamache has learned to look for snakes in Eden. Gamache knows something dark is lurking behind the white picket fences, and if he watches closely enough, Three Pines will begin to give up its secrets…
This is one of those books that has been recommended to me over and over again, and I finally got around to reading it!
The Chief Inspector Gamache series is often referred to as a cozy mystery, but I found it to be a bit meatier than the cozies I'm used to. That's not a bad thing.
The case that brings Gamache and his team to rural Quebec is the discovery of the body of Jane Neal, an older member of the Three Pines community that seems to have no enemies in the world. Was it murder, or a tragic accident? As Gamache uncovers the mysteries of Jane's life and death and of Three Pines, he also gets to know the townspeople along the way, and is able to enlist the help of some. Penny is able to introduce us to many characters without them blending into each other.
I enjoyed the book and Gamache. He is a little Poirot-esque — very measured, rarely gets his feathers ruffled. His team also seems very solid, with the exception of Officer Nichol, who is on her first case with the team. She is the one part of the book that left me feeling a little unsettled. I was expecting some resolution to her storyline by the end and was surprised that there wasn't any. But that will just give me a thread to follow when I start the next book!
I read this for the PopSugar Reading Challenge this year — this book fulfilled the "book set in a country beginning with 'C'" prompt.
Other reviews:
"Ultimately, though, I didn't love the story itself, nor the characters in this sleepy small town. One of the things that makes a mystery fun is learning that everyone is not what they appear on the surface. In this book, however, with the exception of the villain, everyone pretty much is what they appear on the surface. There are a few side secrets but for the most part, the characters are fairly one-dimensional. Penny's writing could benefit from a lot more subtlety." — The Book Stop
"The only niggle that I had with the book was the depiction of the gay couple. The author relied on stereotypical representations in which they ran a B & B and collected antiques. And then there's the scene where they were singing "It's Raining Men" in the kitchen, which caused me to roll my eyes so hard that I saw my brain." — Roger's Reads
"I love that this book (and the rest of the books in the series, I presume) takes place in a small village where everyone knows everyone and all their business. The characters had daily routines that include visiting in the local B and B, chatting at the local bookstore, walking their dogs in the woods. It all seems so civilized and friendly. I think that's why it's such a good location for a murder mystery." — Helen's Book Blog