2011: #36 – Blood Rites (Jim Butcher)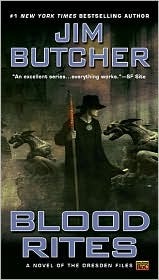 Book #36 was Blood Rites, the 6th book in Jim Butcher's Harry Dresden Files. The back of the book reads:
For Harry Dresden, there have been worse assignments than going undercover on the set of an adult film. Still, there's something more troubling than usual about his newest case. The film's producer believes he's the target of a sinister curse-but it's the women around him who are dying.

Harry's even more frustrated because he only got involved with this bizarre mystery as a favor to Thomas-his flirtatious, self-absorbed vampire acquaintance of dubious integrity. Thomas has a personal stake in the case Harry can't quite figure out. But Harry is about to discover that Thomas' family tree has been hiding a shocking revelation that will change his life forever…
I had burned out a little on this series, but thankfully, there's a cure for that ailment: a fantastic audio production. James Marsters (known by some as Spike from Buffy/Angel) is the narrator, and he does a superb job. He breathed life back into Harry.
Another thing that helped is that this book departs a bit from the giant "save the world" tasks of the last few novels. Harry's looking for a way to pay the bills, so when his vampire "friend" Thomas comes to him and asks him to help his porn-producer friend, Harry finds it hard to resist. Even though the chivalrous side of him isn't very comfortable with learning how porn is made.
But don't worry, it doesn't get very hot and steamy for Harry. Instead, he ends up in the middle of a family squabble turned turf war, and he's connected to it more than he ever expected.
I'll definitely be continuing the series on audio. I can't resist a great narrator.
Other reviews:
Blood Rites (The Dresden Files) by Jim Butcher : Book Review
Sunday Review: Blood Rites by Jim Butcher (Orbit) | NextRead.co.uk
Strategist's Personal Library: Blood Rites by Jim Butcher
What Cheesy Reads: Blood Rites by Jim Butcher
Bitten by Books » Blood Rites by Jim Butcher
Audiobook length: 13 hrs 11 min | Word count: 121,290 ('11 total: 3,526,450)
2010: Dark Entries (Ian Rankin)
2009: Matilda (Roald Dahl)
2008: The Unlikely Spy (Daniel Silva)
2007: Trouble in High Heels (Christina Dodd)
2006: The Mummy Case (Elizabeth Peters)
2005: North and South (John Jakes)
Used in these Challenges: Countdown Challenge 2011; 2011 Audiobook Challenge; Outdo Yourself Reading Challenge 2011; Four Month Challenge – Part 6;