2020: #37 – One of Us is Next (Karen M. McManus)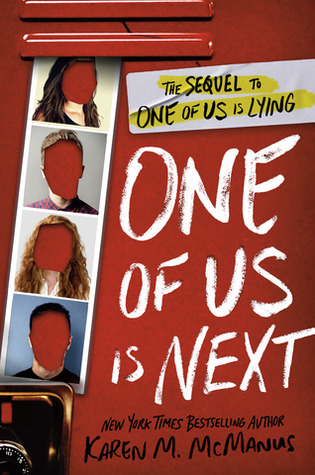 One of Us Is Next
by
Karen M. McManus
Series:
One of Us is Lying #02
Published by
Delacorte Press for Young Readers
on January 7, 2020
Genres:
y/a mystery/thriller
Pages:
377


Also by this author:
One of Us Is Lying
,
Two Can Keep a Secret
Also in this series:
One of Us Is Lying
The highly anticipated sequel to the New York Times bestselling thriller everyone is talking about, One of Us Is Lying! There's a new mystery to solve at Bayview High, and there's a whole new set of rules.

Come on, Bayview, you know you've missed this.

A ton of copycat gossip apps have popped up since Simon died, but in the year since the Bayview four were cleared of his shocking death, no one's been able to fill the gossip void quite like he could. The problem is no one has the facts.

Until now.

This time it's not an app, though—it's a game.

Truth or Dare.

Phoebe's the first target. If you choose not to play, it's a truth. And hers is dark.

Then comes Maeve and she should know better—always choose the dare.

But by the time Knox is about to be tagged, things have gotten dangerous. The dares have become deadly, and if Maeve learned anything from Bronwyn last year, it's that they can't count on the police for help. Or protection.

Simon's gone, but someone's determined to keep his legacy at Bayview High alive. And this time, there's a whole new set of rules.
This book is a sequel to McManus's first book, One of Us Is Lying, which I enjoyed a lot. Instead of focusing on the main characters from that book, this book centers around the classmates of Bronwyn's younger sister, Maeve.
It's hard to keep a good gossip down, and everyone wants to fill the shoes of Simon, the gossip-slinging victim of the first book. So when a mysterious Truth or Dare text game begins, no one is really surprised, but also no one wants to report it for fear of phones being banned from school. And it's quickly discovered that whoever is running the game holds real secrets — and if you don't do what they ask, everyone else will know them too. Until one dare goes horribly wrong.
I liked this, but I didn't think it was as strong as McManus's first two books. There were a lot of things going on, and it wasn't always clear what was and wasn't related to the mystery of the Truth or Dare game. It got a little convoluted. But, I did appreciate what McManus does at the very end, because it was something I wasn't expecting.
This is an author I enjoy, and I'll be looking forward to her next book!
I read this for the PopSugar Reading Challenge this year — this book fulfilled the "book that's published in 2020" prompt.
Other reviews:
"Recommendations: Not as good as the first but a worth while sequel, that lets you spend a little time with characters you loved from the first book. If you thought the mystery was too simple in the first one, then this one is way more complex. The first book blew me a way with how fun it was, this one is not as fun but that was a high bar, and remains in the fun category." — Reading With My Eyes
"As I said, the writing is really easy to read and follow. I also thought that the author did a great job with the multiple POVs, which if I remember correctly, was not the same for book one, that was slightly confusing. So props to the author for making each of the character's voices distinct because YES. She also skipped to the next character each chapter very cleverly which I really appreciated. It was annoying sometimes because I didn't want to skip the POV, but it was admittedly very clever." — Ruby Rae Reads
"And speaking of satisfying payoffs, how amazing was that final twist? Every book Karen M McManus elevates her final mic drop moments, and this was right up there with the one at the end of Two Can Keep a Secret. That is the way you end thrillers. I love it." — The Phantom of the Bookshelf