2005: #41 – The Count and the Confession (John Taylor)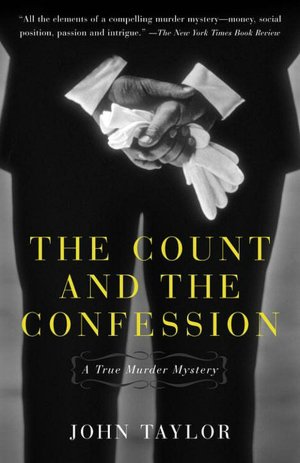 The Count and the Confession: A True Murder Mystery
by
John Taylor
Published by
Vintage
on June 10th 2003
Genres:
true crime
Pages:
384


Roger de la Burde was an unusual and charming man—a wealthy scientist and art collector, he claimed to be a Polish Count, wore ascots, and always bowed to women. But after he was found dead in the library of his Virginia estate, police discovered that de la Burde was not the man he had pretended to be. In fact, he was such a womanizing swindler that they had no difficulty compiling a list of suspects, including the tobacco company he was suing, his disgruntled business associates, his longtime girlfriend, his pregnant mistress, and her husband.

The woman they ultimately charged with the crime seemed the least likely of them all to commit murder; Beverly Monroe was an educated and unfailingly genteel Southern mother of three who had never had so much as parking ticket. But she had been de la Burde's lover for twelve years (despite his frequent affairs) and she made a bizarre confession under intense police questioning. Was she really guilty, or was she manipulated by the police? With unimpeachable research, Taylor reveals the multiple layers of this fascinating case and leaves readers with troubling doubts about de la Burde, about Monroe, and about the justice system in America.
Book #41 was The Count and the Confession, by John Taylor.
I like the occasional true crime story, and if you saw how often I'm watching A&E, you would know how true this is. I found this one especially interesting, because it takes place in an area I'm familiar with. You can pretty much tell which way the book is slanted within the first few chapters, but I found that both sides were treated pretty fairly.
Book count: 41/50 — 82%
Pages in book: 384
Page count: 14,441/15,000 — 96.27%