2005: #42 – Into Thin Air (Jon Krakauer)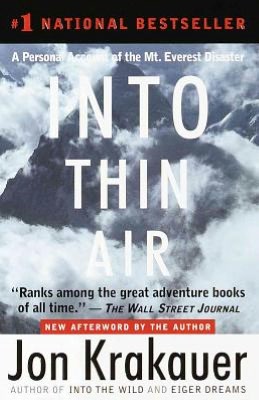 Into Thin Air: A Personal Account of the Mount Everest Disaster
by
Jon Krakauer
Published by
Anchor
on October 19th 1999
Genres:
non-fiction
Pages:
337


Also by this author:
Under the Banner of Heaven: A Story of Violent Faith
Reeling from the brain-altering effects of oxygen depletion, Jon Krakauer reached the summit of Mt. Everest in the early afternoon of May 10, 1996. He hadn't slept in fifty-seven hours. As he turned to begin the perilous descent from 29,028 feet (roughly the cruising altitude of an Airbus jetliner), twenty other climbers were still pushing doggedly to the top, unaware that the sky had begun to roil with clouds....

This is the terrifying story of what really happened that fateful day at the top of the world, during what would be the deadliest season in the history of Everest. In this harrowing yet breathtaking narrative, Krakauer takes the reader along with his ill-fated expedition, step by precarious step, from Katmandu to the mountain's pinnacle where, plagued by a combination of hubris, greed, poor judgment, and plain bad luck, they would fall prey to the mountain's unpredictable fury.
Book #42 was Into Thin Air, by Jon Krakauer.
This book was every bit as good as I was told it was, and I don't even like mountain climbing. It's just amazing what people will put themselves through for a couple of minutes on top of the tallest mountain on Earth. It's also amazing how a bunch of trivial seeming things can snowball into such a disaster. I recommend this highly…
Book count: 42/50 — 84%
Pages in book: 333
Page count: 14,774/15,000 — 98.49%