2016: The Miseducation of Cameron Post (Emily M. Danforth)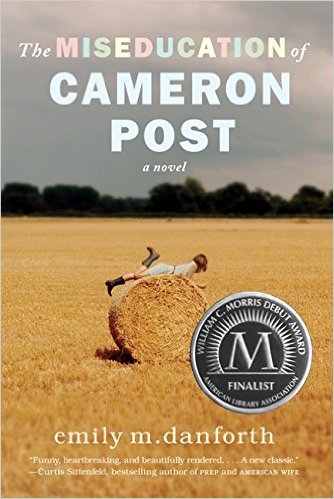 The Miseducation of Cameron Post
by
Emily M. Danforth
Published by
Balzer + Bray
on May 28th 2013
Genres:
y/a contemporary
Pages:
470


When Cameron Post's parents die suddenly in a car crash, her shocking first thought is relief. Relief they'll never know that, hours earlier, she had been kissing a girl.
But that relief doesn't last, and Cam is soon forced to move in with her conservative aunt Ruth and her well-intentioned but hopelessly old-fashioned grandmother. She knows that from this point on, her life will forever be different. Survival in Miles City, Montana, means blending in and leaving well enough alone (as her grandmother might say), and Cam becomes an expert at both.
Then Coley Taylor moves to town. Beautiful, pickup-driving Coley is a perfect cowgirl with the perfect boyfriend to match. She and Cam forge an unexpected and intense friendship--one that seems to leave room for something more to emerge. But just as that starts to seem like a real possibility, ultrareligious Aunt Ruth takes drastic action to "fix" her niece, bringing Cam face-to-face with the cost of denying her true self--even if she's not exactly sure who that is.
The Miseducation of Cameron Post is a stunning and unforgettable literary debut about discovering who you are and finding the courage to live life according to your own rules.
Cameron Post is a young girl who has basically the worst thing happen to her — her parents are killed in a car accident. Coincidentally, that same day is the first time she kisses a girl, and because children aren't logical, she connects the two events in her mind, thus beginning several years of confusion and denial and secrecy.
In the mid-90s, rural Montana isn't really a bastion of progressive or inclusive thought. Cameron had a difficult path to navigate as she tries to figure out who she is and who her real friends are. And when one of those friends betrays her, she has to start all over again in an even more difficult environment.
As an adult, I really related to the time period in the book. I would have been right around Cameron's age, and the story made me think about what would have happened if there were a Cameron in my hometown, in my high school. Heck, there may have been a Cameron, and I just didn't know it.
I do have a few minor criticisms. For one, I thought it was a little too long. And two, it ends *really* abruptly. I actually would forgo some of the earlier parts of the book in exchange for a little more followup. Though I guess it says good things about the story that I want to know what happens next!
Other reviews:
"It's an addictive read, filled with vivid descriptions and realistic characters." — Arkham Reviews
"I seem to have a personal preference for out, loud and proud stories but the quiet and sober ones like The Miseducation of Cameron Post are equally as important." — The Book Smugglers (Ana)
"Beautifully written, it touches on a variety of thoughts and themes without passing judgement, except to say that accepting who you are, even under the most difficult of circumstances, is something we all need to do." — Lost in a Great Book