2005: #1 – The Poisonwood Bible (Barbara Kingsolver)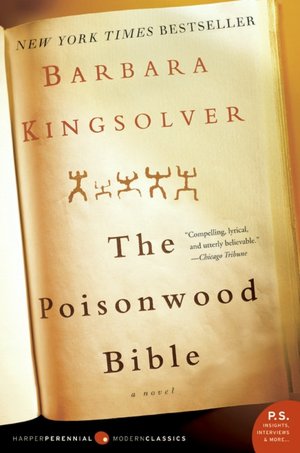 The Poisonwood Bible
by
Barbara Kingsolver
Published by
HarperTorch
on January 28th 2003
Genres:
literary fiction
Pages:
653


In 1959, Nathan Price, a fierce, evangelical Baptist, takes his four young daughters, his wife, and his mission to the Belgian Congo -- a place, he is sure, where he can save needy souls. But the seeds they plant bloom in tragic ways within this complex culture. Set against one of the most dramatic political events of the twentieth century -- the Congo's fight for independence from Belgium and its devastating consequences -- here is "New York Times-bestselling author Barbara Kingslover's beautiful, heartbreaking, and unforgettable epic that chronicles the disintegration of family and a nation.
I just finished The Poisonwood Bible, by Barbara Kingsolver. This was a beautiful book.
I think that what really makes this book work is the way it is written. You witness this story through the viewpoint of each of the daughters — even little Ruth May. It's a very compelling read, and I heartily recommend it.