2018: #4 – Radio Free Vermont (Bill McKibben)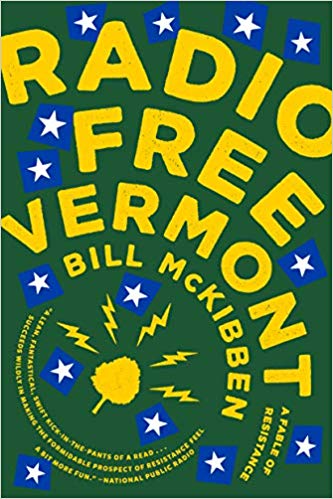 Radio Free Vermont: A Fable of Resistance
by
Bill McKibben
Published by
Blue Rider Press
on November 6, 2018
Genres:
comedic fiction
Pages:
240


"I hope no one secedes, but I also hope that Americans figure out creative ways to resist injustice and create communities where everybody counts. We've got a long history of resistance in Vermont and this book is testimony to that fact." -Bernie Sanders

A book that's also the beginning of a movement, Bill McKibben's debut novel Radio Free Vermont follows a band of Vermont patriots who decide that their state might be better off as its own republic.

As the host of Radio Free Vermont--"underground, underpowered, and underfoot"--seventy-two-year-old Vern Barclay is currently broadcasting from an "undisclosed and double-secret location." With the help of a young computer prodigy named Perry Alterson, Vern uses his radio show to advocate for a simple yet radical idea: an independent Vermont, one where the state secedes from the United States and operates under a free local economy. But for now, he and his radio show must remain untraceable, because in addition to being a lifelong Vermonter and concerned citizen, Vern Barclay is also a fugitive from the law.

In Radio Free Vermont, Bill McKibben entertains and expands upon an idea that's become more popular than ever--seceding from the United States. Along with Vern and Perry, McKibben imagines an eccentric group of activists who carry out their own version of guerilla warfare, which includes dismissing local middle school children early in honor of 'Ethan Allen Day' and hijacking a Coors Light truck and replacing the stock with local brew. Witty, biting, and terrifyingly timely, Radio Free Vermont is Bill McKibben's fictional response to the burgeoning resistance movement.
I've had a hard time deciding what to say about this book! I enjoyed it, but I don't think it's really a fable. I feel like a fable should contain more metaphor, and this story felt like something that could actually happen, though slightly exaggerated.
Radio Free Vermont is the story of Vern Barclay, a 72 year old radio personality who accidentally finds himself leading a secessionist movement (after a misguided prank at the brand new Walmart), including a pirate radio station that communicates their ideas to the people of Vermont. Vern and his compatriot Perry are hiding out at the house of his friend Sylvia, a firefighter who runs a class for new Vermonters. Along the way they also draw the support and help of Trace, an Olympic biathlete that Vern once coached. Vern, Perry, and the rest of the crew find themselves in much deeper than they ever imagined as the authorities close in. Can they reach their end game in time?
I thought this book hit all the right humor notes, and he really captured the spirit of Vermont.