2011: #46 – Madapple (Christina Meldrum)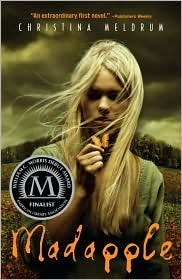 Book #46 was Madapple by Christina Meldrum. The back of the book reads:
THE SECRETS OF the past meet the shocks of the present.

Aslaug is an unusual young woman. Her mother has brought her up in near isolation, teaching her about plants and nature and language—but not about life. Especially not how she came to have her own life, and who her father might be.

When Aslaug's mother dies unexpectedly, everything changes. For Aslaug is a suspect in her mother's death. And the more her story unravels, the more questions unfold. About the nature of Aslaug's birth. About what she should do next.

About whether divine miracles have truly happened. And whether, when all other explanations are impossible, they might still happen this very day.

Addictive, thought-provoking, and shocking, Madapple is a page-turning exploration of human nature and divine intervention—and of the darkest corners of the human soul.
This was a sort of bizarre story. Madapple takes place in a Maine I don't really recognize. Aslaug and her mother live in almost complete isolation in what I presume to be in-land Maine (which, believe it or not, is far different than coastal Maine), living off the land and eschewing all modern conveniences. Aslaug is barely allowed to read, let alone go to school, go shopping, or watch TV. Before her mother's death, she doesn't even know she has family living very nearby, and she discovers them rather accidentally. Whether or not this is a good thing is best left up to the reader.
We learn rather quickly that Aslaug is on trial for not only the death of her mother, but for burning down the church where she lived and some people inside. I enjoyed the structure of the novel as it bounced back and forth between the past and the present, revealing tiny pieces of the puzzle along the way. Things the reader assumes early in the story turn out to be far from the truth.
The author connects each chapter from the past with a particular piece of botanical knowledge. I learned about a lot of plants that I never knew existed, but sometimes there was a little too much detail when really, I just wanted to get on with the story.
Overall, I thought this was a really interesting book. It's not light, and it's not happy, and it touches upon not only the relationship between religion and science, but on the relationships between mothers and daughters, rape, incest, and abuse. If your book club can get past the fact that it's technically a young adult book, I think Madapple is a great novel to stimulate discussion.
Other reviews:
Madapple by Christina Meldrum « Harmony Book Reviews
Review: Madapple « Book Addiction
Madapple by Christina Meldrum « Reading Rants! Out of the Ordinary
Confessions of a Bibliovore: Book Review: Madapple by Christine Meldrum
Madapple by Christina Meldrum | Maw Books
Audiobook length: 11 hrs 10 min | Approximate word count: 104,000 ('11 total: 4,433,203)
2010: A Reliable Wife (Robert Goolrick)
2009: Darling Jim (Christian Moerk)
2008: A Treasure Worth Seeking (Sandra Brown)
2007: Manhunt (Janet Evanovich)
2006: Myths, Lies & Downright Stupidity (John Stossel)
2005: In the Cherry Tree (Dan Pope)
Used in these Challenges: Countdown Challenge 2011; 2011 Audiobook Challenge; New Author Challenge 2011; Outdo Yourself Reading Challenge 2011;