2006: #14 – The Killing Dance (Laurell K. Hamilton)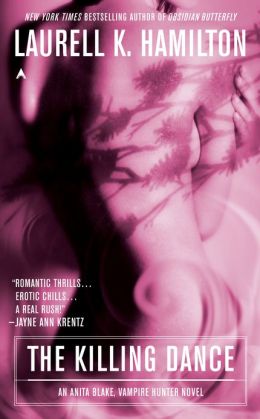 The Killing Dance
by
Laurell K. Hamilton
Series:
Anita Blake #06
Published by
Berkley Books
on September 24, 2002
Genres:
fantasy
,
urban fantasy
Pages:
387


Also by this author:
Circus of the Damned
,
A Kiss of Shadows
Also in this series:
Circus of the Damned
,
The Lunatic Cafe
Anita Blake, vampire hunter, is now herself a hunted woman. Who put the $500,000 price on her head--a man or a monster? It's not just her own skin she needs to save; the rivalry between her werewolf boyfriend, Richard, and Marcus, the other alpha werewolf in his pack, has come to full boil. And there's always Jean-Claude, the vampire who's been waiting for just the right moment to slip inside Anita's head and heart. Don't assume anything, though--Hamilton's probably got a few more surprises in store.
Book #14 was The Killing Dance, the 6th book in Laurel K. Hamilton's Anita Blake series.
First of all, yes, I have been reading a lot.
Second of all, I do enjoy these books. However, some of the focus on sex is getting a little out of hand. Especially in the one I'm reading now (though I guess I shouldn't talk about that one until I'm finished).
Book count: 14
Pages in book: 368
Page count: 5,849
Words in book: 133,039
Word count:1,558,494

1,000,000 words surpassed — 2/2/06