2019: #8 – I Can See You (Karen Rose)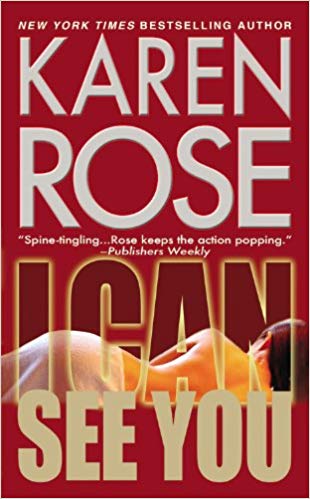 I Can See You
by
Karen Rose
Series:
Minneapolis #01
Published by
Grand Central Publishing
on August 5, 2009
Genres:
romantic suspense
Pages:
480


Also by this author:
Say You're Sorry
New York Times bestselling author Karen Rose delivers her latest pulse-pounding suspense novel, where the line between the virtual world and everyday reality blurs when it comes to murder.

Eve Wilson's face was once scarred by a vicious assault. Terrified and ashamed, she escaped to the online realm, where she could choose the face she allowed people to see. Years later, her outer scars faded and inner scars buried, Eve has fought her way back to the real world and is determined to help others do the same. Now a graduate student moonlighting as a bartender, Eve researches the addictive powers of online communities. When her test subjects begin turning up dead as a result of apparent suicides, she doesn't know where to turn.

Homicide detective Noah Webster is one of the few people who believe the victims are connected murders. Eve becomes Noah's online guide and realizes that the handsome detective may have secret scars as painful as her own. As Eve and Noah chase a killer who is always one step ahead of them, together they try to overcome the tragedies of their pasts and learn to trust again, but they soon discover that danger is much closer than they think.
I thought this was a solid piece of suspense from Karen Rose. It involves some characters from her past books, but it's not necessary to have read them — you get all the background you need. This story could have easily gone sideways — the plot involves a virtual world. I normally expect the virtual/technical parts of a plot like this to be really unbelievable, but Rose did her homework here. I don't recall ever having to stop and scoff "well THAT would never happen!".
The bad guy here is pretty diabolical, and Rose does a good job of keeping you guessing. She's quickly climbing to the top of my romantic suspense tower to hang out with Nora Roberts and Sandra Brown.
Other reviews:
"In other words, I had the pleasure of reading a great murder mystery as well as was given food for thought on social commentary. I would recommend this to anyone who likes suspense/murder mysteries." — That's What She Read
"I am not generally the best at guessing the identity of the perp in romantic suspense, but I had it here. Very early on. This didn't diminish from my enjoyment of the unfolding of the author's taut story, but I kept expecting twists that just didn't happen." — All About Romance
"I Can See You strikes me as a book that would appeal equally to thriller lovers and romance lovers because of the strength of Karen Rose's writing." — Starting Fresh