2008: #75 – A Paragon of Virtue (Christian von Ditfurth)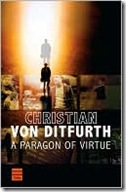 Book #75 was A Paragon of Virtue, the first in the Josef Stachelmann series by Christian von Ditfurth. The back of the book reads:
One by one, over a period of several years, the wife and children of a prominent Hamburg citizen are being slain. Von Ditfurth has crafted a breathtaking thriller that highlights in vivid detail how present the German past is today.
I was quite pleased with this book. Professor Stachelmann is not your usual leading man. He's not a heartthrob, he doesn't have his act together, he's not powerful, heck, he's not even particularly healthy. But like many of the characters in this book, he feels real. I like how von Ditfurth writes the relationships between his characters. The initial meeting between Stachelmann and his old friend, Ossi, is just as awkward and uncomfortable as you'd expect. Stachelmann and Anne's flirty interactions run hot and cold as Stachelmann deals with his insecurities and indecision about her, but they always feel natural. He's not a smooth operator, nor does he pretend to be.
Behind it all, Stachelmann is a historian, and he's driven by the search for the truth. He's not trying to figure out who's behind the murders for the sake of the father/husband, but because as details come to light, it's a mystery he can't help but try to solve. At the end, the mystery isn't so much about who, but about why. As things come to a conclusion, you discover that in Germany, some wounds may never heal. This is the first book I've read in a long time that didn't deal with Nazis in an overdone, cliche way. The German perspective really added something new for me.
I will be holding a giveaway for my ARC copy of this book. Stay tuned!
Page count: 331 | Approximate word count: 99,300
2007: The Life and Times of the Thunderbolt Kid (Bill Bryson)
2006: Cruel and Unusual (Patricia Cornwell)
2005: Under the Banner of Heaven (Jon Krakauer)