2008: #100 – The Dirty Secrets Club (Meg Gardiner)
It's only fitting that I mark book #100 of the year with a new look on the blog!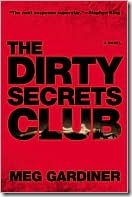 Book #100 was The Dirty Secrets Club, the first book in Meg Gardiner's Jo Beckett series. The back of the book reads:
An ongoing string of high-profile and very public murder-suicides has San Francisco even more rattled than a string of recent earthquakes: A flamboyant fashion designer burns to death, clutching the body of his murdered lover. A superstar 49er jumps off the Golden Gate Bridge. And most shocking of all, a U.S. attorney launches her BMW off a highway overpass, killing herself and three others.

Enter forensic psychiatrist Jo Beckett, hired by the SFPD to cut open not the victim's body but the victim's life. Jo's job is to complete the psychological autopsy, shedding light on the circumstances of any equivocal death. Soon she makes a shocking discovery: All the suicides belonged to something called the Dirty Secrets Club, a group of A-listers with nothing but money and plenty to hide. As the deaths continue, Jo delves into the disturbing motives behind this shadowy group—until she receives a letter containing a dark secret Jo thought she'd left deep in her past, and ending with the most chilling words of all: "Welcome to the Dirty Secrets Club."
Where has Meg Gardiner been hiding? This was fabulous! It's been a while since I've been so taken with a new (or new to me) suspense writer. The action in this book starts almost immediately with a crazy dare and the death of a U.S. Attorney. Jo Beckett is a really interesting character with a profession that I haven't seen explored before (if it actually even exists!) — forensic psychology. Instead of determining how someone died, it's Jo's job to determine the why, not only to help with the official police investigation, but also to provide closure to the family of the victims. There are tons of twists in this story as it unfolds, along with a solid cast of characters. Each one is their own person, from Jo's quirky next-door neighbor to the spunky detective she's working with to the paramedic with a tie to Jo's tragic past. And what is this club really about? Sex? Money? Revenge? The relief of unburdening oneself? This will most definitely not be the last Meg Gardiner book I read.
Page count: 416 | Approximate word count: 124,800
2007: Fantasy Lover (Sherrilyn Kenyon)
2006: Final Target (Iris Johansen)