2008: #106 – Foul Play (Janet Evanovich)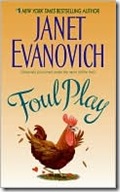 Book #106 was Foul Play by Janet Evanovich.  The back of the book reads:
When Amy Klasse loses her TV job to a dancing chicken, handsome veterinarian Jake Elliott rescues her with an offer to be his receptionist. Jake just can't resist a damsel in distress, and Amy certainly doesn't mind Jake's charming sincerity.
Then suddenly the job-stealing chicken disappears and Amy is suspected of foul play. Amy and Jake search for clues to prove her innocence. But will Jake be able to prove to Amy that love, too, is a mystery worth solving?
This was just a quick listen (only 4 discs), but it was a cute little romance story, peppered with the quirky humor that Evanovich does so well in her Stephanie Plum series.  It falls apart a little at the end, in an "okay, it's time to wrap this up!" sort of way, but it made me smile as I was listening.
Page count: 256 | Approximate word count: 64,000
2007: Lifeguard (James Patterson)
2006: A Place Called Wiregrass (Michael Morris)