2008: Challenges – Fall into Reading 2008 Wrap-Up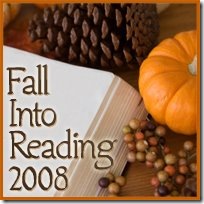 Well, this challenge was a bust for me! This was my list:
Any Given Doomsday

– Lori Handeland

College Girl – Patricia Weitz
The Gone-Away World – Nick Harkaway
Guernica – Dave Boling

Like Glass

– Matthew Cory

Matrimony

– Joshua Henkin

Devil's Brood – Sharon Kay Penman

Living With the Truth

– Jim Murdoch

The Rest of Her Life – Laura Moriarty
The Charlemagne Pursuit – Steve Berry
I only finished four! Well, really I read more than 10 books in that time, but since the point of this for me was to read review/ARC books that I had, I'm not going to change my list just for the sake of completing the challenge. I did finish The Charlemagne Pursuit yesterday, so it almost counted! The good(?) news is that I'll be rolling over the 5 I didn't get read to the Winter Reading Challenge.
I think the reason I didn't get these read is that my reading actually slowed down considerably this fall.  I think it was a combination of running out of time and other things getting in the way.  I also read a few books that sucked up more of my time than normal.
Out of the five books I did get finished (counting The Charlemagne Pursuit), I think my favorite was Joshua Henkin's Matrimony.