2009: #38 – The Masque of the Black Tulip (Lauren Willig)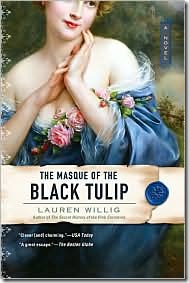 Book #38 was The Masque of the Black Tulip, the second book in Lauren Willig's Pink Carnation series.  The back of the book reads:
Harvard grad student Eloise Kelly achieved the academic coup of the century when she unmasked the spy who saved England from Napoleon. But now she has a million questions about the Pink Carnation's deadly French nemesis, the Black Tulip. And she's pretty sure that her handsome on-again, off-again crush, Colin Selwick, has the answers somewhere in his archives. But what she discovers in an old codebook is something juicier than she ever imagined.
I loved this book as much as the first, The Secret History of the Pink Carnation.  This one was more romance than mystery, but there's a healthy dose of each. And humor! Once again, Eloise isn't sure what she wants, but she's sure she's making a pretty big fool of herself. And back in history, the secret agents of England and France are up to their old tricks, except this time, Henrietta, the Purple Gentian's sister, wants in on the action. It's not too hard to figure out who the Black Tulip really is, but watching the characters follow the red herring is part of the fun. The book ends with a bit of a cliffhanger in Eloise's story, so I'm anxious to see where it goes!
Page count: 464 | Word count: 137,010
2008: Hide (Lisa Gardner)
2007: The Night Gardener (George Pelecanos)
2006: Case Histories (Kate Atkinson)
2005: I'm Not the New Me (Wendy McClure)
Used in these Challenges: Spring Reading Thing 2009; The Countdown Challenge; 100+ Reading Challenge 2009; 2nds Challenge; 2009 eBook Challenge; The 999 Challenge;