2008: #62 – The Plot Against America (Philip Roth)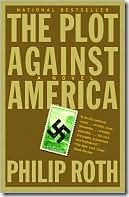 Book #62 was The Plot Against America by Philip Roth.  The back of the book reads:
In an astonishing feat of empathy and narrative invention, our most ambitious novelist imagines an alternate version of American history.

In 1940 Charles A. Lindbergh, heroic aviator and rabid isolationist, is elected President. Shortly thereafter, he negotiates a cordial "understanding" with Adolf Hitler, while the new government embarks on a program of folksy anti-Semitism.

For one boy growing up in Newark, Lindbergh's election is the first in a series of ruptures that threaten to destroy his small, safe corner of America–and with it, his mother, his father, and his older brother.
As soon as you find out that the main character in this book is Philip Roth, a boy growing up in the same place and the same time as the author Roth, this book takes on the feel of a memoir.  Essentially, this book is not about the alternative world Roth has created by changing one election, but about how the Roth family lives and survives in this world.  Much of it is seen through the eyes of 9 year old Philip, but as he would explain it years later, as an adult.  The language and analysis of events is not that of a child's.
The alternative history holds up pretty well, until the "bad days" begin.  At that point in the book, the narrative starts to fall apart as you get a straight summary of events of the next 10 days.  Is this by design? I'm not sure.  I felt like it interrupted the flow of the story.  I also felt like Roth cops out a bit at the end… I was expecting a story where Hitler wins and the world is forever changed.  What you get instead is just a blip in the WWII timeline… a delay of the events that really happened.
Overall, it was a good read and I'm glad I read it, despite the concentration it took to get through some of Roth's run-on sentences.  Would I read another by him? Based on the writing style alone, no, but if the story interested me I'd pick it up regardless.
Page count: 391 | Word count: 139,610
2007: The Harlequin (Laurell K. Hamilton)
2006: M is for Malice (Sue Grafton)
2005: Blood Test (Jonathan Kellerman)