2008: #63 – Key of Light (Nora Roberts)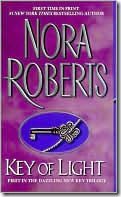 Book #63 was Key of Light, the first book in the Key Trilogy by Nora Roberts. The back of the book reads:
Three women. Three keys. Each has 28 days to find her key. If one fails, they all lose. If they all succeed, money, power and a new destiny awaits.
This was the first of Nora Robert's supernatural-themed books I've read, and it wasn't quite what I expected. I guess I wasn't expecting the supernatural part to be so blatent? Regardless, I enjoyed it and read it in about a day and a half. I liked all of the characters (especially Moe!), which is actually pretty unusual for me with this kind of book. Usually there's at least one of them that gets on my nerves. I prefer her romantic suspense, but I'll definitely finish this trilogy.
Page count: 334 | Word count: 98,983
2007: Born in Death (J.D. Robb)
2006: Dark Angel (Karen Harper)
2005: Godplayer (Robin Cook)