2008: #71 – Hold Tight (Harlan Coben)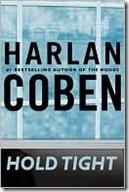 Book #71 was Hold Tight by Harlan Coben. The back of the book reads:
#1 bestselling author Harlan Coben has become an unstoppable force in suspense fiction. His most recent novel, The Woods, spent more time on the New York Times bestseller list than his previous books and sales reached his highest levels to date. His latest page-turner, which is about just how far parents will go to protect their kids, is destined for the top of every bestseller list.

Tia and Mike Baye never imagined they'd become the type of overprotective parents who spy on their kids. But their sixteen-year-old son Adam has been unusually distant lately, and after the suicide of his classmate Spencer Hill—the latest in a string of issues at school—they can't help but worry. They install a sophisticated spy program on Adam's computer, and within days are jolted by a message from an unknown correspondent addressed to their son: "Just stay quiet and all safe."

Meanwhile, browsing through an online memorial for Spencer put together by his classmates, Betsy Hill is struck by a photo that appears to have been taken on the night of her son's death . . . and he wasn't alone. She thinks it is Adam Baye standing just outside the camera's range; but when Adam goes missing, it soon becomes clear that something deep and sinister has infected their community. For Tia and Mike Baye, the question they must answer is this: When it comes to your kids, is it possible to know too much?
I have mixed feelings about this. First of all, I really don't think this is his best work. My favorite Coben book is still No Second Chance. But I didn't dislike this. Coben creates an incredibly complex plot here. I felt like I needed a flowchart to keep track of all of the different characters and story lines. There's two main plot lines here, and on the surface they don't really have anything to do with each other. In my mind, they ended up being connected by circumstance, rather than design. I'm not sure that's the best way to describe it, but if you read it I think you'll know what I mean.
The main discussion point for this book seems to be all the stuff about spying on your kids. I found that I don't really have an opinion of whether it's good or bad… in the book I think it can be seen as both. There was a lot here about protecting your kids — it was the motivation for almost every character. The plot was almost too complex to be believable, or maybe it was so complex that it is very believable. I'm afraid to say much more because part of what keeps you reading this book is not knowing what twist is coming next. One storyline — the one with the Baye's next-door neighbor and her sick kid — probably could have been left out altogether. It didn't really add anything.
If I were one to give stars, I think I would give this 3.75/5. Not quite a 4, but pretty close.
Page count: 416 | Approximate word count: 124,800
2007: Mr. Perfect (Linda Howard)
2006: Just One Look (Harlan Coben)
2005: Secret Prey (John Sandford)