2008: #72 – The Finishing School (Michele Martinez)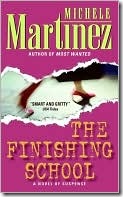 Book #72 was The Finishing School, the second book in the Melanie Vargas series by Michele Martinez. The back of the book reads:
In a glittering penthouse high above Park Avenue, two beautiful teenagers, students at an exclusive Manhattan girls' school, lie dead under suspicious circumstances. Feeling pressure from the top to solve the high-profile case fast, Melanie breaks all the rules and goes undercover. Teamed with Dan O'Reilly, a hard-to-resist FBI agent with a talent for making her pulse race, Melanie embarks on a wild chase from the rarefied world of New York's elite private schools to the darkest recesses of the city's nightlife. And, ultimately, into a fight for her life against a devious killer who has no intention of getting caught.
Wow. I thought this was really great! I picked it up not realizing it was actually the second book in a series, but I don't think it mattered. There were a few references to book 1, but this stood pretty well on it's own. I liked Melanie a lot… She's a smart, sassy prosecutor, but she's not full of herself and knows she makes some stupid decisions. She felt like a fresh character to me, not the same old strong female lead. Dan is a little on the cheesy side, but I liked the two of them together. The attraction seemed very natural. I'm hoping we get to know him better in the later books (there's four total in the series now). There's lots of twists and turns here, and what starts out looking like a couple of ODs turns out to be a whole lot more. It's definitely not what you would expect, either! I had no clue who the bad guy was going to be, so I enjoyed the surprise of the reveal. I would highly recommend this to anyone who likes a good suspense novel, and I will definitely be reading the rest of the series. In fact, I may even keep this paperback instead of swapping it!
Page count: 432 | Word count: 108,145
2007: Lean Mean Thirteen (Janet Evanovich)
2006: The Sky is Falling (Sidney Sheldon)
2005: Jacob's Ladder (Donald McCaig)