2012: #3 – Before She Dies (Mary Burton)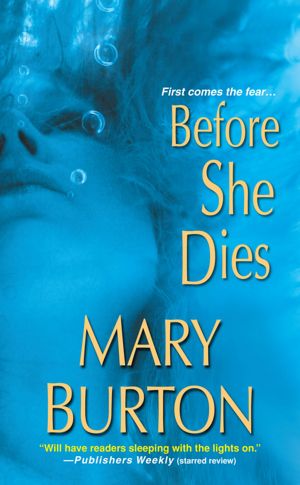 Title: Before She Dies
Author: Mary Burton
Format: Paperback
Pages: 416 (2012 total – 1,264)
Approx. Word Count: 104,000 (2012 total – 374,804)
Release Date: January 31, 2012
Publisher: Zebra – Kensington
Categories: romantic suspense
Source: ARC from publicist
Rating: 3.5 out of 5

Back of the book:
He Is Their Judge. . .

In death, they are purified. Holding his victims under water, he washes away their sins as they struggle for their last breath. Then he stakes their bodies to the ground, exposing them for what they really are. Witches, sent to tempt and to corrupt. . .

Jury. . .

No one knows about defense attorney Charlotte Wellington's murdered sister, or about her childhood spent with the carnival that's just arrived in town. For Charlotte, what's past is past. But others don't agree. And as a madman's body count rises, she and Detective Daniel Rokov are drawn into a mission that's become terrifyingly personal. . .

And Executioner

At last, she is within his reach. All his victims deserve their fate, but her guilt is greatest. And with every scream, he will make her see what it means to suffer and repent—before she dies. . .
My thoughts:
Though not technically part of a series, Before She Dies closes off a loosely connected trilogy that started with Burton's Senseless and Merciless. I think it was on par with those two books. In some ways, it was stronger. The romance is there from the very beginning rather than materializing towards the end, so we get a chance to root for it a bit longer. I would have liked to see a little more wanting from Charlotte's point of view, but overall I'm not disappointed in how it developed.
I also thought Charlotte's back story was more interesting than the female protagonists in the previous two books. The carnival makes for an unusual backdrop.
When it comes to the villain, I find that I finished the book feeling somewhat confused about him. (SLIGHT SPOILERS AHEAD) His placement in the periphery of the story was a bit too obvious, because if he's not the bad guy, what's his purpose? Maybe I just read too many of these types of books. I also didn't understand his ultimate motive. I understood the fixation part of it, I just didn't get why he started in the first place. (END SPOILERS!)
Overall, I did enjoy the read. I think Burton writes both strong female and strong male characters, yet is able to keep the male characters secondary. I will continue to keep Burton on my "to read" list!
Available from: Amazon | Barnes & Noble | IndieBound | WorldCat
Other reviews:
Past reviews:
2011: Labor Day (Joyce Maynard)
2010: Lamb (Christopher Moore)
2009: Lord John and the Brotherhood of the Blade (Diana Gabaldon)
2008: Lord John and the Private Matter (Diana Gabaldon)
2007: No Second Chance (Harlan Coben)
2006: Lost Innocents (Patricia MacDonald)
2005: 3rd Degree (James Patterson)