2008: #74 – The Face of a Stranger (Anne Perry)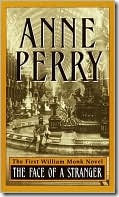 Book #74 was The Face of a Stranger, the first book in Anne Perry's William Monk series. The back of the book reads:
His name, they tell him, is William Monk, and he is a London police detective. But the accident that felled him has left him with only half a life; his memory and his entire past have vanished. As he tries to hide the truth, Monk returns to work and is assigned to investigate the brutal murder of a Crimean War hero and man about town. Which makes Monk's efforts doubly difficult, since he's forgotten his professional skills along with everything else….
I enjoyed this, but man… it took me a long time. Two weeks! Part of that was the fault of my schedule, but it was also a slow-moving story. When you first meet Monk, he doesn't know who he is. I think this lends an extra bit of flair to this book — you don't have any background about your main character. As he relearns about himself, you're learning about him too. And since he doesn't particularly like what he's learned about himself, you get to see him grow. He really doesn't have a choice but to become an entirely new person.
The mystery here is interesting, but it's the main reason that the plot is slow-going. Things didn't become really interesting until Monk started putting the pieces together and remembering things, and that's more than 3/4 of the way through the book. My only other experience with Anne Perry is her Thomas and Charlotte Pitt novels, and I didn't think this was quite as good. I'll read more in the series because I really like a good historical mystery, but I'm going to have to work my way into the next one.
Page count: 345 | Word count: 113,305
2007: Love and War (John Jakes)
2006: Outlander (Diana Gabaldon)
2005: Hornet Flight (Ken Follett)