2008: #79 – Dance with the Devil (Sherrilyn Kenyon)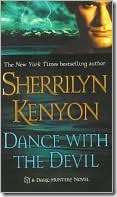 Book #79 was Dance with the Devil, the fourth(?) book in Sherrilyn Kenyon's Dark-Hunter series. The back of the book reads:
Zarek's Point of View:

Dark-Hunter: A soulless guardian who stands between mankind and those who would see mankind destroyed. Yeah, right. The only part of that Code of Honor I got was eternity and solitude.

Insanity: A condition many say I suffer from after being alone for so long. But I don't suffer from my insanity-I enjoy every minute of it.

Trust: I can't trust anyone…not even myself. The only thing I trust in is my ability to do the wrong thing in any situation and to hurt anyone who gets in my way.

Truth: I endured a lifetime as a Roman slave, and 900 years as an exiled Dark-Hunter. Now I'm tired of enduring. I want the truth about what happened the night I was exiled-I have nothing to lose and everything to gain.

Astrid (Greek, meaning star): An exceptional woman who can see straight to the truth. Brave and strong, she is a point of light in the darkness. She touches me and I tremble. She smiles and my cold heart shatters.

Zarek: They say even the most damned man can be forgiven. I never believed that until the night Astrid opened her door to me and made this feral beast want to be human again. Made me want to love and be loved. But how can an ex-slave whose soul is owned by a Greek goddess ever dream of touching, let alone holding, a fiery star?
I wasn't expecting to like this installment in the series, mostly because Zarek is not the most charming of Dark-Hunters. I was pleasantly surprised! I ended up like this quite a bit, despite Zarek's surliness. It helps if it hasn't been *too* long since you read Night Embrace (Talon's story), because there's a lot of reference to Zarek's part in that book. There were a few things that didn't make sense to me in this, not the least of which was the story behind Astrid's blindness. She's supposed to lose her sight while she's judging someone, yet she can use her "companion", Sasha, to see. Isn't that cheating? Regardless, this troublesome little detail isn't enough to get in the way of the true purpose of the story, which is to tell a love story about the gods.
Page count: 343 | Word count: 95,130
2007: Harry Potter and the Deathly Hallows (J.K. Rowling)
2006: The Mermaid Chair (Sue Monk Kidd)