2009: #31 – Breath of Scandal (Sandra Brown)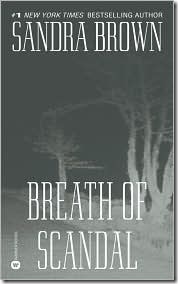 Book #31 was Breath of Scandal by Sandra Brown.  The back of the book reads:
On a rainy Southern night, Jade Sperry endured a woman's worst nightmare at the hands of three local hell-raisers. Robbed of her youthful ideals, and at the center of scandal, she ran as far away as she could. But now she has returned to exact a just revenge and perhaps fulfill a lost promise of love.
This is a story of revenge, redemption, healing, and a little romance. I'm still fairly new to Sandra Brown, but this was a really good one.  Both the highs and the lows in the story are equally great.  The only issue I had is that she uses the "sudden tragic event" as a plot device a little bit too much.  There's a lot that happens in this story… rape, betrayal, pregnancy, suicide, AIDS, terminal illness, allergic reactions, accidental death, car accidents, heart attacks… it's a lot to take in. And I found myself getting frustrated with Jade when she wouldn't share what happened to her with those that cared about her.  I wanted to yell, "For cripe's sake, just tell them already!" Yet, I could hardly stop myself from listening. Brown knows how to write sexual chemistry.
Audiobook length: 15hrs 52min | Word count: 148,658
2008: Seduction in Death (J.D. Robb)
2007: Exile (Richard North Patterson)
2006: The Snake, the Crocodile, and the Dog (Elizabeth Peters)
2005: H is for Homicide (Sue Grafton)
Used in these Challenges: 100+ Reading Challenge 2009; 2009 Audiobook Challenge; The 999 Challenge;