2008: Challenges – Fall Into Reading 2008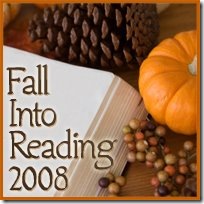 The Summer Reading Thing challenge is wrapping up, so it's time to pick up a fall challenge! I've decided to do Fall Into Reading 2008, hosted by Callapidder Days. It basically works the same way as the Summer Reading Thing… Just choose however many books you want to read before December 20, and that's your list!
Just click here for more info! There will be a sign-up post with a Mr. Linky on Monday.
I had to change almost half of my Summer Reading Thing list, so in an attempt to avoid that for this challenge, I'm going to use my pile of ARCs and books sent to me specifically to be reviewed as my list.
Last updated: 11/18
In no particular order:
Any Given Doomsday – Lori Handeland
College Girl – Patricia Weitz
The Gone-Away World – Nick Harkaway
Guernica – Dave Boling
Like Glass – Matthew Cory
Matrimony – Joshua Henkin
Devil's Brood – Sharon Kay Penman
Living With the Truth – Jim Murdoch
The Rest of Her Life – Laura Moriarty
The Charlemagne Pursuit – Steve Berry
Look at that! It's a nice even number! I like that.